Women's Futsal News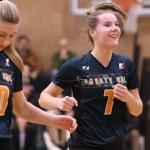 Sunday, January 15, 2023 @ 9:32 PM • Women's Basketball, Men's Basketball, Women's Volleyball, Men's Volleyball, Women's Futsal, Men's Futsal
The first weekend back in MCAC league play may have started off on Friday the Thirteenth, but it was certainly no day for bad luck for the Blazers. Four wins on Friday night, followed by another four on Saturday had the Blazers take eight of a possible ten games on the weekend slate.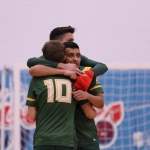 Monday, March 14, 2022 @ 11:06 AM • Women's Soccer, Men's Soccer, Women's Futsal, Men's Futsal
The MCAC wrapped up its final Championship weekend on Sunday with the Copa de la Paz Futsal trophies awarded at host Universite de Saint-Boniface after a full day of semi-finals and finals action. Blazers men's futsal contended for the cup and a chance to defend their 2020 title, but fell short in the final, relinquishing the championship to the Brandon Bobcats.
Print This Article