Blazers News
Trailblazer Award Winner Radiates His Passions into the Community
An Interview with Gode Katembo of Blazers Men's Soccer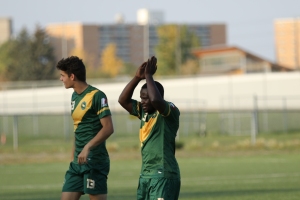 2022 Blazers Athletics Trailblazer Award Winner Gode Katembo has a lot going on both on and off the field, and has leveraged his passion for the game of soccer into several community initiatives that aim to create a safe space for athletes to build skills and compete at the game they love. The Trailblazer award is an annual award given to a CMU student-athlete that sacrifices their time and energy on puruits in the community that make a better world for everyone.
Also a member of the inaugural MCAC True Sport Team, an award that was developed to recognize student athletes who demonstrate the principles of True Sport on the field of play, in the classroom, and in the community including "Go For It," "Play Fair," "Respect Others," "Keep It Fun," "Stay Healthy," "Include Everyone," and "Give Back." Certainly a very deserving recipient of both the conference and CMU awards, Blazers Athletics caught up with Katembo to learn more about his onging projects away from life at university, including a fashion-oriented business that has connections for him back home.
Blazers Athletics: How did Manitoba African Cup of Nations get started, and what is your role with the organization?
Gode Katembo: The Manitoba African Cup of Nations Inc. (MACN) is a not-for-profit organization based in Winnipeg, Manitoba, for which I am the founder and Executive Director. Established in January 2019, MACN aims to create a positive impact on the African-Manitoban community. The organization the largest event organizer of its kind in Winnipeg and aims to bring African community members together through sports and cultural events.
MACN's Free to Play soccer program creates a safe space for refugee and immigrant youth, primarily African first and second generation, in underserved communities to overcome negative influences, particularly gang involvement, while establishing healthy habits and building community, intercultural awareness, and respect. Our original mission of fostering African youth through healthy activities has grown to strengthen the African-Manitoban community by hosting events that embrace sport, music, food, and cultural exhibits.
Despite the COVID-19 restrictions over the last year, the organization included representatives from ten different African communities, with 360 athletes participating in the programs, and 20 volunteers and five staff members helping run the organization's programs.
Blazers Athletics: You also run a fashion-oriented business in your free time; how did the opportunity come about to start your GK Customwear business?
Gode Katembo: My passion for fashion started at a very young age, and when I was in grade 12 I had an opportunity to do an internship for four weeks at a local suit company in Winnipeg back in 2015. I was always passionate about men's formal wear and loved helping to dress well. For years, I was more like a stylish helping hand to discover their personal style. After graduating from Red River College, I could not find the job I wanted. I decided to start GK Customwear with a vision to provide high-end custom-made clothing that is affordable and reflects an individual's uniqueness. My goal is to help people discover tehir personal style and dress better.
Blazers Athletics: What do you feel has been the driving forces of setting up these organizations? Where does the passion come from?
Gode Katembo: My father was a businessman in my home country of the Democratic Republic of Congo, and when war broke out my family fled to Uganda and lived the the refugee camp for six years before moving to Canada in 2009. When we moved to Canada, I barely spoke any English but just had a desire to do great things and contribute to this wonderful country. My drive or passion comes from my creator, who gives me strength and the ability to create so that his name can be glorified.
Gode has recently taken even more initiative in his community involvement as he is currently serving as the Committee Chair for the Young Chamber and Youth Affairs at the Black Manitoba Chamber of Commerce. Blazers Athletics is certainly proud to have Gode as a part of the program and wish him all the best in his many endeavours.
Print This Article