Men's Soccer News
Friday, March 19, 2021 @ 10:44 AM • Men's Soccer
The CMU Blazers are pleased to announce the commitment of Morden Collegiate's, Matthew Pahl to the men's soccer program for the 2021 MCAC season.
Pahl has been a central figure in the success of his high school team throughout his career, beginning with a second-place finish in zone championships and a bronze medal performance in provincials as a Grade 10 player.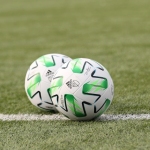 Tuesday, September 29, 2020 @ 11:55 AM • Women's Soccer, Men's Soccer
The announcement coming from Manitoba Public Health on Friday afternoon, that the Winnipeg region would be placed in "Code Orange" effective Monday, September 28 for a minimum of four weeks, all but spelled the end of the Manitoba Colleges Athletic Conference's plan for a reduced, 4-game soccer season.
Friday, November 1, 2019 @ 2:10 PM • Men's Basketball, Men's Soccer
Congratulations to Kieran Baydock of Men's Soccer and Men's Basketball on being selected the CMU Lionheart Sports Male Athlete of the Month for October. A rare dual-sport athlete with the Blazers, Baydock proved in 2018-19 that he was not a one-trick pony by lacing up his soccer boots in the fall and high tops in the winter. This October, the product of nearby Shaftesbury High School contributed to the success of both programs simultaneously, showing his dominance outdoor and indoor.
Tuesday, October 1, 2019 @ 2:17 PM • Men's Soccer
Congratulations to Victor Hugo of Men's Soccer on being selected the CMU Lionheart Sports Male Athlete of the Month for September. Though the Brazilian hasn't been the man scoring the goals for the Blazers, the third year midfielder has been the creative energy behind many of his team's scoring chances, playing a key part in five of CMU's seventeen goals scored this month.
Print This Article