Blazers News
Blazers Women's Soccer Earn Huge Point in Draw with Les Rouges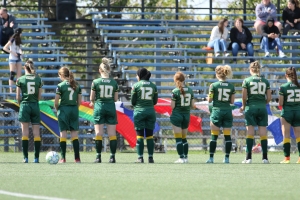 The Blazers Women's Soccer squad earned their first point in the MCAC season standings this past weekend by playing to a 1-1 draw with the defending champions Universite de Saint-Boniface Rouges. It was a huge step forward for the team, who were coming off two big losses on opening weekend to start the year. The result puts the team in the top four of the standings and into playoff position, below Les Rouges and ahead of the Assiniboine Cougars, who the Blazers matchup with this coming Saturday.
With extremely windy conditions factoring heavily into game play, both sides knew it would be crucial to get scoring opportunities with the winds at their backs, and the Blazers did just that, netting one of two shots on goal for the home side in the first half of play. CMU's goal came in the 14th minute off the boot of Ezri Trump with service coming from a great corner kick from captain Melissa Gilbert. The Blazers took the lead into half thanks to stellar play in goal from rookie Morgan Pierce, the recently named Female Athlete of the Week for week two of the MCAC season.
"Morgan had a break-out game against USB this weekend," chimed co-head coach Cara Isaak about the play of their goalkeeper on Monday following the big weekend result. "You could see her confidence building and she made some really key saves to keep the game tied. USB challenged her with middle distance shots throughout the second half and her positioning and hands were great. Morgan is also doing a great job organizing her back line and we really appreciate how coachable she is. She has a wonderful curiosity about all aspects of the game which is so important for rookies."
On the men's side, the Blazers fell to the perennial powerhouse Les Rouges 4-1, leaving them in a similar spot to their female counterparts sitting just in the playoff picture in third place below St Boniface and Brandon who are in a tie for second place in the standings. The lone Blazers scorer was Will Anderson who netted a penalty kick in added time, voiding St Boniface's bid for a clean sheet.
Both teams are on the road this weekend in Brandon, where they have chances to pick up points against the Assiniboine Cougars who sit last in both divisions. A favourable result for both teams will be crucial to separate themselves from the bottom of the table and stay in the mix to move up in the rankings.
Print This Article