Blazers News
Newest Men's Soccer Signing Brings Experience And Ambition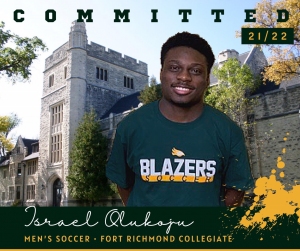 CMU Men's Soccer continues to build towards the 2021 MCAC season, this week announcing the signing of Israel Olukoju, formerly of Fort Richmond Collegiate. Olukoju joins two high school teammates already with the Blazers, in Yeri Concepcion and Will Anderson. The trio contributed to a very competitive Winnipeg High School Indoor Soccer League program at Fort Richmond Collegiate that included a top-3 finish at the University of Winnipeg tournament in Olukoju's senior year.
After graduating from his south-Winnipeg high school in 2017, Olukoju was introduced to MCAC competition with Providence University College, playing parts of two seasons with the Pilots. "I would say one of my favourite highlights would be playing against CMU," said Olukoju. "The intensity each time we played each other was on a whole other competitive level, which was just amazing!"
The 21-year old credits much of his sport development to the Bonivital soccer club. Olukoju was part of an undefeated season with his Bonivital youth team and hopes to add that experience and success to the mentality of his CMU when they step on the MCAC pitch this fall.
"We're really happy to have Izzy (Israel) committed to us this season," said CMU head coach Anderson Pereira. "He is experienced in our league and already has some strong connections with players in our team. He comes in as a mature player and I think that will make it easy for him to adjust to our system. Izzy is a fast, competitive player and I'm looking forward to getting better acquianted with him and what he can do as team training gets started this spring and summer."
"First, I want to thank God for this opportunity as well as the CMU coaches, the Athletic Director and the team for everything so far," said Olukoju. "I'm excited to be part of a great program at CMU and ready to do my best to help the team. I can't wait to meet everyone and I'm excited for the upcoming season."
The forthcoming season will mark the MCAC's first official season as full members of the Canadian Collegiate Athletics Association. The change means that the winners of the MCAC championships this October will receive a berth in the CCAA Men's Soccer National Championships hosted at Medicine Hat College in November. The Manitoba champions will face the winners from the PacWest Conference (BC), ACAC (Alberta), OCAA (Ontario), RSEQ (Quebec), ACAA (Atlantic) the hosts Medicine Hat College and a wildcard team from a conference to be officially named at the CCAA's Annual General Meeting in June.
Print This Article