Blazers News
Men's Soccer Inks 'Keeper From Northern Region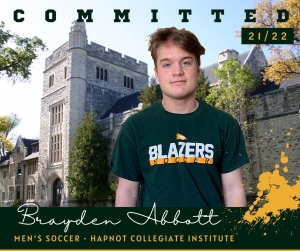 The CMU Men's Soccer program has looked north to secure the team's goalkeeping needs for the 2021 MCAC season, signing Hapnot Collegiate's Brayden Abbott.
Pursuing soccer in the north takes a serious commitment, so to add to the impact that his regional coaches have had on his development, the Flin Flonner spent the summer of 2020 in Winnipeg under the focussed attention of the E&E Sports Management team.
As a club player, Abbott backstopped the Phantom Lake Storm to multiple club tournament wins and earned his share of Player of the Game recognitions along the way. The goalkeeper also represented Team Nor-Man for the 2016 Power Smart Manitoba Summer Games.
"We are really happy to have Brayden's commitment to the program and hope to get better acquianted with him as we get into the summer months," said Blazer's head coach Anderson Pereira. "I'm looking forward to getting Brayden connected with the group as the relationship between a goalkeeper and his teammates, especially those who will defend in front of him, is a key factor in the team's defensive success. He'll also play a big part in how we begin our possessions and our team's ability to play out from the back."
At Hapnot, Abbott led the Kopper Kings to a provincial championship berth in the fall of 2019 after the team came up just short of winning zone banners the previous two seasons. Abbott also excelled in badminton, volleyball, golf, track and hockey.
"I am super excited to play with CMU," said Abbott. "I love the vibe of CMU and I think we really have the potential to do something special. I truly am excited to play and to see how my skills can convert to the next level. I can't wait to start practicing and playing with my new teammates and learning from the coaching staff."
The forthcoming season will mark the first official year of full membership in the Canadian Collegiate Athletic Association (CCAA) for CMU and the MCAC. The change in status with the national association will allow the 2021 MCAC Champions the opportunity to advance out of their province and compete on a nation-wide stage at the CCAA Men's Soccer National Championships. The MCAC joins five other established regional conferences - PacWest (BC) ACAC (Alberta), OCAA (Ontario), RSEQ (Quebec) and ACAA (Atlantic) - to make up the CCAA. With the inclusion of the MCAC, the CCAA is the largest national post-secondary athletics association in Canada, consisting of 100 member institutions.
Print This Article