Blazers News
Men's Soccer Looks to Excel with the Addition of Elite Talent Newman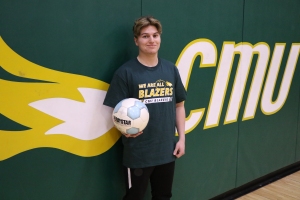 The CMU Men's Soccer program is very pleased to announce the commitment of Landon Newman for the 2022-23 MCAC season. The College Beliveau product comes to CMU by way of the Elite & Excel Sports Management agency.
Following MCAC Finals appearances in both outdoor soccer back in October, as well as futsal this past March, Blazers men's soccer is looking ahead to the 2022-23 season and it's next recruiting class to give the team the boost it needs to become champions once again. That recruiting class starts with the signing of local Winnipeg talent Landon Newman, a quick and powerful winger with a nose for the goal.
Newman is currently finishing up his final year at College Beliveau where his high school Barracudas compete at the AAA level. A multisport athlete, he also plays for the school's hockey team, and has used both sports to increase his power and agility, all while cultivating a natural game sense that shows well on the field.
The newest Blazer recruit called Bonivital his home for his first four years in the club system, before moving most recently to Phoenix FC. Along the way he has captured several tournament championships with his teammates, including the Bonivital championship, a premier league championship at the U15 level as well as a club tournament hosted in Saskatchewan along with another premier league championship at the U16 level.
"We are very excited to have Landon joining us for the upcoming season," notes Blazers men's soccer head coach Anderson Pereira. "We got to know Landon about two years ago through E&E Sports Management and we have been in talks with him since. He came out to some of our ID camps and not just performed very well but also instantly connected with the other guys. Landon works hard and for the team and these are the types of players that we like to have here that will work for each other." The Blazers skipper couldn't stress enough how happy he is to have Newman join the Blazers squad saying "I'm sure Landon will be a perfect fit at CMU and hopefully he will have a full five years to show everyone what he can do on and off the field."
Newman is also excited about joining the Blazers, noting their recent successes and strong sports programming as a definite draw for him to start his college career with the green and gold.
The 2021-22 outdoor season marked the first time that the MCAC Champion moved on to represent Manitoba at the CCAA National Championships. Your Blazers narrowly missed out on that opportunity this past season, but will look to continue to build and grow their program to contend once again when they kickoff their season next September.
Print This Article