Blazers News
MCAC Gains Entry to National Championships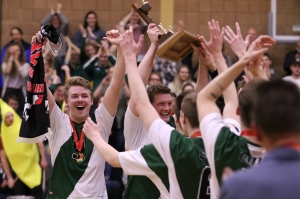 It's official! The Manitoba Colleges Athletic Conference (MCAC) was unanimously voted to be included in the Canadian Collegiate Athletic Association (CCAA) National Championships for the 2021-22 seasons and moving forward in the sports of women's and men's soccer, as well as women's and men's volleyball. The vote occurred at the national governing body's annual general meeting this past week.
Although the MCAC has been a part of the CCAA for the last two years beginning with the 2019-20 season, a two-year probationary period had to be completed before MCAC champions would be granted access to the national championship tournament. During the last two years, the conference champions from Manitoba was expected to send a contingent of Athletics staff and coaches to the CCAA tournament as observers, for the purpose of reporting back to the conference and as a way of experiencing a national championship before full participation was granted. CMU was fortunate to send its Director of Athletics, Russell Willms, as well as fellow Blazers Athletics staff and men's volleyball assistant coach, Joshua Ewert to the 2019-20 CCAA Men's Volleyball National Championships held in Fredericton, New Brunswick, in March of 2020 following the Blazers' MCAC Championship win. "I absolutely relished the experience of observing a national championship," notes Ewert, "being able to see the full production value of a tournament of such high importance was a treat, but also seeing teams we have competed against in out-of-province play over the last few years gave me the sense that this was definitely a tournament I could see ourselves competing at in the near future."
Being part of a Canada-wide association gives the MCAC an upgraded status, which extends down to its current members, which includes Assiniboine Community College (soccer, volleyball), Brandon University (soccer), Providence University College (soccer, volleyball), Universite de Saint-Boniface (soccer, volleyball), and Canadian Mennonite University (soccer, volleyball). The CCAA requires conference participation of at least four institutions in Tier I sports admitted, and with only CMU and Providence fully participating in basketball, membership to the CCAA in basketball will not be an option until the MCAC adds conference representatives in the sport.
"Seeing the MCAC get into the CCAA as full members of the association is really exciting for us as a team. A lot of our returning players have been working hard for many years knowing that one day this might be a possibility, so knowing that this year we might have a chance to compete on the national level and represent CMU on that stage is something very special," chimed CMU Blazers Men's Volleyball student-athlete Tim Juvonen on the exciting news from this past week. "I think after having a year off due to COVID-19 and now being in the CCAA, there is a lot to work towards, but I know we are all excited to get back on the court playing in the Loewen."
Six member conferences now comprise the CCAA, including the PACWEST conference in British Columbia, ACAC in Alberta, MCAC in Manitoba, OCAA in Ontario, RSEQ in Quebec, and ACAA in Atlantic Canada, totalling 100-plus member institutions across the country. Tier I team sports include soccer, volleyball, and basketball, with national championships also held in the sports of curling, badminton, cross-country, and golf. CMU's Director of Athletics, Russell Willms, now represents the MCAC at the national level in a director role, with ACC's Athletics Director, Beth Clark, stepping up as national convenor for women's volleyball.
"As a conference, this is a goal we have been working at for many years," said Willms. "We are excited to finally be able to bring this opportunity to our athletes and to future athletes that will represent CMU. We want our university to be able to compete and contribute on a national level and our athletes and coaches to receive nationwide recognition for their abilities and their accomplishments."
National Championships are scheduled for the 2021-22 seasons across the CCAA's complement of sports. MCAC champions will have the opportunity to play for a national title in soccer and volleyball following their seasons. In November, the CCAA women's soccer championships are slated to be hosted by Humber College in Toronto, while men's soccer championships will be hosted by SAIT in Calgary. The champions of Manitoba in women's volleyball will have the opportunity to compete for a national titlein March at Holland College in Charlottetown, PEI, while the men will play at CEGEP Limoilou in Quebec City.
Print This Article