Blazers News
Kalyssa Wasylik: October's Zueike Female Athlete of the Month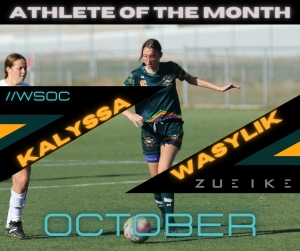 Congratulations to Kalyssa Wasylik of Women's Soccer on being selected the CMU Zueike Female Athlete of the Month for October. The highly-skilled player made the transition from midfield to defence in her sophomore season.
With a few changes to the lineup in the offseason, Blazers women's soccer co-head coaches Cara Isaak and Lianna Bestvater had some tough roster decisions to make and turned to Wasylik to move to the fullback position at the wing of the back line of defence. The CMU coaches weighed in on their rising star's play this month, stating "Kalyssa has really reached a new level of play this year. She was asked to transition to defense which was new for her and she had an amazing attitude about it and worked really hard to learn the position. She brings great energy to every game and gets the crowd on their feet with her footwork."
Wasylik made a number of highly skilled runs in the final games of the regular season, making quick work of even the talent-laden St Boniface Rouges side in their final meeting of the season at the Ralph Cantafio Soccer Complex. While she didn't make splashy additions on the scoresheet this year as she did on a few occasions last season from the midfield, her play was nonetheless noticeable connecting the back end to the forward group of the Blazers, providing through balls for runs from the strikers and working the ball up the field herself when the opportunity arose.
While the outdoor season has come to a close, Wasylik will be in the gym with her teammates in a matter of weeks working on her futsal footwork as the team transitions to the court season which gets underway in earnest after the Christmas break. CMU will once again host the Copa de la Paz MCAC Futsal Championships late in February, which the Blazers last won in 2018.
Print This Article