Blazers News
A Heritage Moment for Nguyen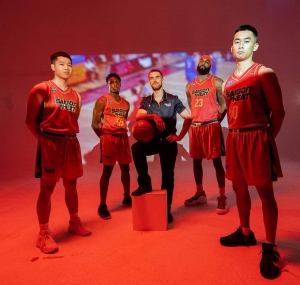 We all know the saying "when one door closes, another one opens," but for many people the COVID-19 pandemic has closed a lot more doors than it has opened. That's not the case for CMU men's basketball guard Binh Nguyen, who now finds himself playing professional basketball in the VBA in his native country of Vietnam.
Flash back to summer of 2020, when the world was in lockdown from a rapidly spreading virus. Training was shutdown, the likelihood of a college season starting in fall was just a glimmer of hope, and the idea of a year of online classes was rapidly looking like an inevitability. Like most people around him, Nguyen was rapidly shrinking his social bubble as the list of restrictions on social gatherings, travel, and services continued to lengthen; however, at a time when others were just waiting for the pandemonium to end, Binh Nguyen was researching opportunities to grow his game while everyone else was locked in.
As it turns out, the pandemic was a blessing in disguise for Nguyen, who admits he never would have considered seeking out such an opportunity had he not been stuck at home isolating instead of living his normal life of a university student-athlete. "COVID, in general, has allowed me to think about what I want to do" says Nguyen of the additional time and big picture thinking that the pandemic has brought on. "If COVID never happened, I wouldn't have thought to reach out for opportunities like this." Those opportunities turned out to be lifelines pulling him back to Vietnam, where he was born and raised until the age of nine when him and his family moved to Canada to pursue better educational possibilities. Emails to the head coach of the Vietnam National Basketball Team as well as contact with the head coach of the Vietnam Basketball Association's Saigon Heat resulted in talks that would see Nguyen pulled back across the Pacific to his hometown of Ho Chi Minh City, and the training grounds of the Saigon Heat.
Flash forward to February 24, 2021 and Nguyen was finally on his way back to his childhood country after weeks of travel delays. With restrictions having lifted just enough to allow some small group training back in Winnipeg before his departure, Binh knew he had weeks of hard work ahead of him after a two-week quarantine to get back into game shape. It's important not to forget that this huge life transition was happening in the midst of a university semester with grade point averages on the line, and tied to them, the ability to play future college seasons. Although his family hoped he would stay behind to finish the semester, the pressure to get a jump on training with his team in his new home was too much to ignore. By communicating to all his professors before leaving, Binh was able to come up with game plans for all his classes on how he could study and submit assignments. His 6:00 PM night classes in Winnipeg became 6:00 AM morning classes in Vietnam, while his daytime classes were recorded on Zoom and sent in time for him to catch up during his downtimes from training. His two-week quarantine in a hotel suite close to the Heat's training facility gave Nguyen the time needed to catch up on his studies and get into a new routine before hitting the streets of Ho Chi Minh as a man freed from isolation.
Life in Vietnam isn't all that new to Nguyen, as it's the place he grew up and where he first found love for the game of basketball. With some family still living on the North side of the city, Binh gets to reconnect with them on weekends and off-days from training. Since joining the Heat for workouts at the team's training facility on March 12, Nguyen has grown accustomed to a twice-a-day training regime, with 8AM morning conditioning sessions followed by late afternoon practices. He has seen his mental and physical game grow stronger since practices began, and although he is working towards winning a championship with his new Heat teammates, he still thinks of his CMU Blazers squad back home and hopes just as much to win a championship in Winnipeg as well.
Nguyen's two-year contract with the Heat means he can settle in with his new team and get valuable experience in a professional basketball setting for this and next summer, which neatly offsets the MCAC and NIAC seasons back home from October to March. College eligibility requires maintaining an amateur status, so while his team is professional, and many of his teammates are taking home salaries enough to live off of, Nguyen receives only a modest living allowance with some basic living expenses covered by the team, in order to stay eligible for the Blazers' upcoming seasons when he returns to Canada to study and play. Binh hopes to use this experience as a springboard for greater things yet after he finishes up his career at CMU where he is on track to graduate with a Bachelor of Arts degree with a major in psychology.
The Vietnam Basketball Association is a relatively new league in the competitive Asian basketball scene, with its inaugural season occurring in 2016. The league now consists of seven teams including (from North to South): Hanoi Buffaloes and Thang Long Warriors, both hailing from Vietnam's capital region of Hanoi; Da Nang Dragons and Nha Trang Dolphins from the central coastal region; Saigon Heat and Ho Chi Minh City Wings from the former capital region in the South; and finally, the Cantho Catfish on the banks of the Gau Giang River. Nguyen's Saigon Heat are the current defending Champions and are looking to retain their title later this summer. Teams are made up of about 14 rostered players, most of which must be Vietnamese nationals, as only two spots are allowed for import players, in addition to one spot reserved for a "heritage player" of Vietnamese decent who grew up and lives outside of the country. VBA games are televised nationally across the country, and there is a buzz surrounding the league which continues to grow in following and momentum.
The VBA calendar typically starts with a pre-season in May, followed by season games in June and July leading up to championship playoffs in August. The Vietnamese government has been very tight on restrictions surrounding the COVID-19 pandemic, which has led the league to move its 2021 season to a bubble in Nha Trang, originally slated for half seasons split between Ho Chi Minh City and Hanoi. A start date previously set for June 11 has been pushed back to July 10, with teams having entered the bubble in Nha Trang over the Father's Day weekend ahead of the start of games.
The CMU Blazers wish Binh good luck in this exciting chapter, and wish him and the Saigon Heat success as they begin their season and push for another championship title!
Upon his return, Binh and his Blazers men's basketball teammates will look to begin their quest for MCAC and NIAC Championships, with the season slated to begin with games with the Leech Lake Tribal College Lakers in Bemidji, Minnesota on October 29 and 30, 2021.
Print This Article