Blazers News
Graduate Profile: Waldy Preis, Men's Soccer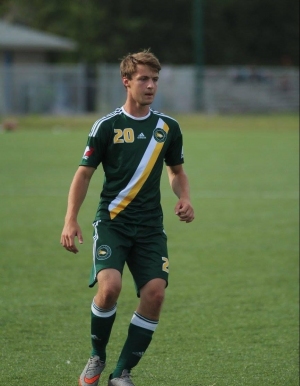 Few players that have graduated through the men's soccer program have shown more commitment to personal improvement than Waldy Preis. Coming to CMU after he helped his Garden Valley Collegiate team elevate to a Rural Provincial Championship, the converted fullback has been a presence with the Blazers for five years and tasted MCAC glory as part of the 2018 conference winners.
We had a chance to catch up with the Winkler, Manitoba product to talk about his five elite years at CMU:
Q: What things impacted your decision when you chose to come to CMU?
WP: I had initially never thought of attending CMU. However, when I got a text from Russell Willms, the CMU men's coach at the time, asking if I was interested in playing soccer for the Blazers, it swayed my decision to attend CMU. Looking back now, I can say that I am grateful for having made that decision. The relationships I have made at CMU, whether it be my teammates, professors, or students, have shaped the person I have become today. CMU has played such a pivotal role in my life that I cannot imagine having gone anywhere else.
Q: What have you enjoyed most about being a student-athlete?
WP: What I have enjoyed most about being a student-athlete is the close connection I have established with my teammates. We are like a close-knitted family that has remained close even through the pandemic. The close friendships I have found in my teammates, the hours we spent following coach Paulo's fitness sessions drenched in sweat—this may not be a fond memory, but it showed how every one of us was willing to take the extra step. It is the bond we share as teammates where we have learned to work for one another.
Q: What is a favourite memory of your time as a Blazer?
WP: One memory I will take with me for life is our winning season in 2018. The joy of beating the undefeated Brandon Bobcats in the final was one I can still recollect to this day. We had been the underdog's all season, and to play against the adversity and through the plague of injuries, made winning the Championship feel that much more special.
Q: What is the most challenging aspect of being a student-athlete?
WP: The most challenging aspect for me as a student-athlete has been staying on top of my classes. Being a student-athlete was almost like a full-time job - practices were three or four times a week and games on weekends. It was crucial to find time for my studies, and it sometimes meant I stayed up past 1AM to finish an assignment. Maintaining a schedule was especially hard in my first two years, where the concept of University was relatively new to me.
Q: What advice would you give to players representing CMU in the men's soccer program next season?
WP: Do not take your studies lightly. Your studies have equal importance to soccer and not staying on top of school will ultimately overwhelm you. It is not easy being a student-athlete, and creating a set schedule where you have time for your studies and practice will make for a less stressful environment and ultimately leads to your success.
Q: When your time as a student-athlete ends, what would you like your legacy to be?
WP: I was never the most skilled player on the field and I had many ups and downs as a student-athlete. Every year I would improve as a player and work twice as hard as the person next to me. Over the years, I have seen my role as a member of our team increase. I believe this year would have been one of my most successful seasons as a Blazer. However, because of COVID-19, this did not happen. In terms of my legacy, I will leave it in the words of Thomas Edison, "Many of life's failures are people who did not realize how close they were to success when they gave up."
Q: What does the future hold for you after graduation?
WP: The thought of becoming a high school teacher has grown on me over the five years I have now spent at CMU. My goal is to attend the Bachelor of Education program at U of M to receive my full qualification as a teacher.
COACH'S REFLECTION
We asked Men's Soccer head coach Anderson Pereira to share a relection on his graduating athlete:
"Waldy is a great example of determination. Since I came to CMU, I see him working extra hard on and off the field always looking to improve and to help the team. He is always giving his all and pushing the intensity of training sessions which helps pushing everyone else around him. We saw a great improvement on Waldy's skills and understanding of the game in the past three years. He is always open to feedback and makes sure to do what's asked from him on the field always putting the team first.
Waldy is now graduating after winning the soccer and futsal championship with his friends. I hope he continues involved in the soccer community, passing along what he learned and the experience he had in these five years. He demonstrated outstanding effort and work-ethic during this time, and it was a pleasure having Waldy representing our program and our values as a student-athlete." - Anderson Pereira, head coach
CMU Athletics would like to extend our congratulations to Waldy Preis for his soccer and scholastic accomplishments during his time at CMU and to thank him for the legacy of excellence and the example of determination he has left on the Men's Soccer program. The Blazers plan to recognize Waldy's accomplishments more formally at the opening home match of the 2021 MCAC season.
Congratulations Waldy!
Print This Article