Blazers News
Blazers Set to Welcome Spectators for Indoor Events
Admission to home events will be for a limited guest list and CMU students and staff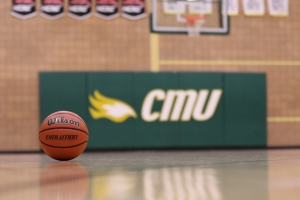 The CMU Blazers' proposal for a limited-capacity spectator allowance at varsity volleyball and basketball home events was accepted today by the university's Pandemic Response Committee. Live audiences in the Loewen Athletic Centre can resume beginning October 29th which correlates with the beginning of the CMU volleyball and basketball 2021/22 regular seasons. CMU volleyball hosts the USB Rouges for their opening match of 2021/22 on October 29th and the Blazers host the Providence Pilots on November 5th for the opening game of the MCAC basketball regular season.
Barring any further changes to restrictions according to the Manitoba Pandemic Response System, CMU Athletics is planning to implement a system allowing a limited number of fully-immunized fans along with CMU students to home events.
The System
Admission to home events will be through a ticket pass which will be assigned through players and coaches of CMU varsity teams prior to each event in the Loewen Athletic Centre. The combination of passes for each varsity sport will total a maximum of 80 spectators for volleyball and basketball home games, plus the addition of current CMU students. As a ticketed event, spectators will still be required to pay admission price for entry, and will be on a card only system for the season to avoid the handling of cash. Passes can be re-designated for each home date, so long as the assigned attendees can provide government-issued proof of full immunization for all guests over the age of 12.
CMU students and staff with identification will be permitted to attend home events in a reserved section, along with the visiting team's opposing gendered team.
Safety
Masks will be required to be worn by spectators at all times while indoors, including while entering and exiting the gym, and in all areas of the Loewen Athletic Centre. The consumption of food will not be allowed in the main gym area during events, and beverages will be limited to water only.
Hand sanitizer will be available near frequent-touch point areas, including at the gym entrance, and outside washrooms and change rooms. It is recommended that guests limit their use of the washrooms in the gym foyer when possible, as they are small spaces with limited capacity to maintain physical distance.
All events allowing spectators will continue to be livestreamed through the Blazers YouTube channel to allow all fans to view home matches from the safety of their homes.
Print This Article