Blazers News
Blazers Basketball Plans for Canadian Schedule for 2021-22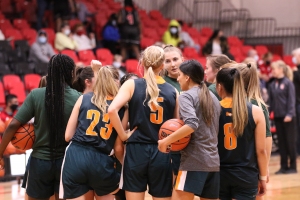 Amidst continuing uncertainty about the Canada/USA land border crossings, CMU Athletics have decided to pull the plug on the planned Northern Intercollegiate Athletics Conference (NIAC) regular season. This move comes in conjunction with Manitoba Colleges Athletic Conference (MCAC) member institution Providence University College Pilots, who have also planned for a Canadian only season.
The Blazers basketball teams have been a part of the NIAC since 2016, playing regular season games in North Dakota, South Dakota, and Minnesota en route to the championship tournament, which the Blazers women's team won the last time the full tournament was held in the spring of 2020.
The cancellation of their American schedule leaves considerable holes in the Blazers season plans, as trips to the United States had been planned for October, November, December, January, and for championships in February, in addition to several home weekends hosting their American counterparts. In response, the MCAC has added additional games to its schedule, meaning the three teams of CMU Blazers, Providence Pilots, and newcomers St Boniface Rouges will match up six times each throughout the season, as opposed to the previously scheduled four.
Out of the loss of its NIAC schedule comes perhaps more exciting opportunities to face off with colleges across Canada, as planning is underway to send the teams to Vancouver later this month, as well as Southern Ontario in mid November. With a busy American schedule in past seasons, these opportunities had previously come few and far between. "As a conference, we have been wanting to grow MCAC basketball to the CCAA (Canadian Collegiate Athletic Association) level for several years. With all our teams and games now restricted to competing in Manitoba and in Canada, we're hopeful that this season will provide a foundation for growth on this side of the border," stated Russell Willms, Canadian Mennonite University Director of Athletics.
On their West Coast swing the Blazers will look to meet the Columbia Bible College Bearcats in Abbotsford, followed by the Douglas College Royals in New Westminster, and finally the Capilano College Blues in North Vancouver. Planning for South Ontario has the teams matchup against the Redeemer College Royals in Ancaster, followed by the Niagara College Knights in Welland, and finally the Mohawk College Mountaineers in Hamilton.
The first MCAC basketball season since the spring of 2020 is set to begin on November 5th when the Blazers host the Providence Pilots with the women tipping off at 6PM followed by the men at 8PM.
Print This Article