Blazers News
Aquino Scores Dos in Blazers Home Opener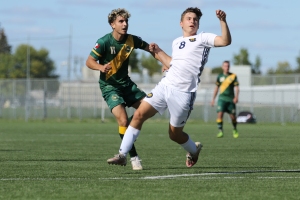 Rookie striker Matheus Aquino scored once in each half on Sunday afternoon, as CMU topped the Brandon Bobcats 2-1 to wrap up Week 1 MCAC men's soccer action.
The early stages of the match saw the visitors create most of the attacking chances while CMU absorbed the Bobcats' pressure. Brandon's best chance in the opening half came in the 11th minute on a volley from the foot of Diego Rodriguez. The former MCAC all-conference selection ran onto a lob pass at the edge of the 18-yard box and struck a dipping shot labelled for the top corner only to see his shot equalled by Blazers first-year goalkeeper, Brayden Abbott, at full stretch.
Abbott's save seemed to energize the home team, turning the momentum of the match in favour of CMU. In the 28th minute Aquino opened the scoring for the home side. Isolating his defender, the Brazilian cut inside and beat Bobcats' goalkeeper Ryder Anthony with a bending effort that gave CMU a 1-0 lead.
Brandon outshot the Blazers 8-2 in the opening 45 minutes with 4 shots finding the target. A combination of resolute, organized defending, and Abbott's prowess in goal managed to keep the Bobcats off the scoresheet.
13 minutes after the restart, Aquino cooly slotted in his second goal of the match after being sent in on goal by a perfectly weighted through ball from veteran CMU midfielder Will Anderson. The third-year playmaker turned with the ball in transition and played a 30 yard pass forward, splitting the defenders and sending Aquino in alone on the Bobcats' goal.
Brandon clawed their way back into the match with a goal from Diego Rodriguez in the 71st minute to cut the CMU lead to 2-1 and the visitors spent the final 19 minutes plus injury time seeking an equalizer. Brother of the Bobcats' goalscorer, Camilo Rodriguez, had the best chance to tie the game in the dying seconds, but with CMU pressure coming on his attempt, the talented midfielder saw his effort sail well over the CMU goal.
The win coupled with Saturday's opening day loss to Providence, leaves CMU with a record of 1-1-0 as they prepare for Week 2 of MCAC men's soccer. The Blazers will host the USB Rouges (1-0-0) this Saturday at the Ralph Cantafio Soccer Complex at 3:15pm. Les Rouges scored a very convincing 9-0 win over the ACC Cougars on Sunday in Brandon.
Print This Article