Blazers News
Blazers Women's Soccer Look to Find Their Footing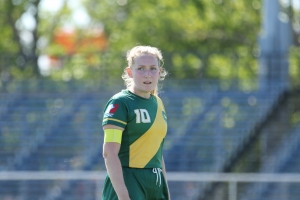 Opening weekend of the MCAC 2021-22 soccer season has come and gone, and it has left a bad taste in the mouths of the Blazers women's soccer squad who now have their work cut out for them if they want to climb the standings and stand among the leagues top teams come October.
The Blazers started their campaign on the road in Otterburne facing the Providence Pilots on Saturday. What appeared to be a solid start for the rookie-heavy team entering the second half down 0-1 to the home side soon turned into a second half nightmare as the Pilots went on to net an additional four markers to take the match 5-0. Ayesha Umar, a new addition to the Blazers side led the team with three of CMU's eight total shots on goal, but none managed to find the back of the net.
With less than 24-hours to make adjustments leading into the second match of the weekend, the Blazers knew they would be in for another tough match against perennial powerhouse Brandon Bobcats at the CMU home opener. Like the Pilots the day before, the Bobcats attack came in waves, firing 24 shots towards goal, 19 of which hit the target. Blazers' Rookie goalkeeper Morgan Pierce was a standout over the weekend, making 12 saves in each of the matches, including several athletic attempts on high-chance offensive plays from the Bobcats.
Coming out of the half with a 0-4 deficit and looking to give the home crowd something to cheer about, the Blazers continued to mount counter-attacks, and were finally rewarded when captain Melissa Gilbert sent a beautiful curling shot around the wall and into the top corner off of a Blazers free kick just outside the 18-yard box. Unfortunately, that would be as close to creating a comeback as the home side could muster, as Brandon's attack kept coming and netted an additional three markers in the second half, finishing off the Blazers with a 1-7 scoreline.
Next action for the Blazers will be this Saturday as they welcome the defending champions St Boniface Rouges to the Ralph Cantafio Soccer Complex. Kickoff is slated for 1:00pm. Les Rouges are coming off of a convincing 6-0 win over the Assiniboine Cougars in Brandon in their lone match of Week 1 play.
Print This Article