Blazers News
Women's Volleyball Gain Spirit and Versatility with Addition of Neustater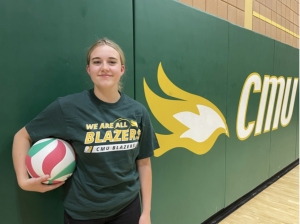 The CMU Women's Volleyball program is very pleased to announce the commitment of Amy Neustater for the 2022-23 MCAC season. The Morris School and Dynamo Club product will bring plenty of talent and drive to the Blazers this year as a red shirt with the team.
Joining her brother and fellow Blazer Bryce Neustater, Amy will follow the family mold of bringing a big positive attitude to the gym everyday, while providing the versatility to play on the outside, as a defensive specialist, or wherever asked.
Neustater comes to CMU from Morris School, where she got her start playing high school volleyball, and has played primarily on the right side for her home town team. She has been a part of some successful squads, including a zone championship team in her first year of JV in 2018-19, as well as this last season, where the team once again won their zone and went on to place fifth at the MHSAA AA Provincial Championships. Neustater has captained her Morris Mavericks squad since her 2019-20 junior varsity season, and earned herself player of the game awards from both her provincials appearances in 2018 and 2021.
Standing at 5'3.5" Neustater has had to use her athleticism to be successful on the court, which has also led her to be used in many different situations, and at positions all over the court. Her club career is a testament to that versatility, where she started as a setter with Bisons Black for her 15U season, then as a left side and libero with Bandits Volleyball Club for her 16U and 17U seasons, and again featured at libero with Dynamo Heat for her 18U season, but also made a surprise appearance as a middle for their first match this club season, even recording a block in the game. Playing with Dynamo Heat, her team had a third place finish in tier one of division three at the 2022 Volleyball Canada Club Nationals in Edmonton this past spring. Neustater's leadership and team spirit has seen her be a strong presence in the locker room as well, captaining both her 15U and 17U club squads.
Encouraged by her high school guidance counsellor to pursue volleyball at CMU, Neustater contacted head coach Jayme Menzies ahead of her final high school year, and is excited now to be able to play volleyball and study sciences at CMU while living on campus. Menzies raved about Neustater's team-first attitude when asked about her newest recruit, stating "sometimes you just want to have a person in the gym with you and Amy is one of those people: hardworking, kind, positive, respectful, talented, and fun. I look forward to getting to know her further and seeing the inevitably positive impact she will have on our season." Neustater is hoping to grow her game while with the Blazers and sees the opportunity as a new challenge for personal growth during a pivotal time in her life.
Full training for the Blazers is set to resume at the start of September, and the team will dive headlong into preparations for non-conference exhibitions with the Columbia Bearcats and Capilano Blues in the Vancouver area in mid-October before league matches begin later in the month. Having just finished their first full year of Canadian Collegiate Athletics Association (CCAA) participation, the Blazers will look to improve on their MCAC playoff finals appearance this March and push for a Manitoba championship when the new season begins in October. The winner of the MCAC championship goes on to compete at a national level at the CCAA championship tournament. The CCAA is the national body for collegiate athletics in Canada, offering 10 national championships in seven sports. The Manitoba Colleges Athletic Conference joins five other established CCAA conferences; PacWest (BC), ACAC (Alberta-Sask), OCAA (Ontario), RSEQ (Quebec) and ACAA (Atlantic).
Print This Article