Blazers News
Women's Volleyball Adds Power to Open their 2022-23 Recruiting Class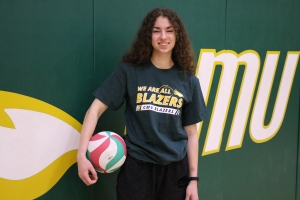 The CMU Women's Volleyball program is very pleased to announce the commitment of Abby Cassidy for the 2022-23 MCAC season. The Warren Collegiate Institute product comes to CMU with plenty of experience at the club and high school varsity levels in Manitoba.
The 5'10" left side will add more height to the Blazers' outside attack, and will look to fill the shoes of graduating Blazer Lydawn McGarry, who along with middle Chloe Friesen and setter Renee Desroches, will leave spots in the starting rotation up for grabs in the coming season.
Cassidy will also add more leadership potential to the team, having captained her rural high school squad in both her grade 10 and 12 seasons, and leading her Warren Collegiate Wildcats to a tournament win in MacGregor this past season. Both her grade 10 and 12 seasons were also capped with MHSAA zone wins en route to appearances in the AA Provincial Finals, and in both tournaments was named to the Provincial All-Star team.
On the club side, Cassidy started her career with the Selkirk Royals, then transitioned to Dynamo Volleyball Club before settling with Bandits Volleyball Club. While the COVID-19 pandemic has cancelled two years of Nationals, she was able to experience the cross-Canada championship tournament in her U15 season when her team finished third in their tier. Cassidy credits her Dynamo and then Bandits Club coach Robert Stefaniuk for much of her development, who helped round out her playing style and bring her game to the college level.
Cassidy connected with Blazers Women's Volleyball head coach Jayme Menzies through her high school coach, and after a few looks during recruitment practices looked to be a fantastic fit with the CMU program. The feeling was mutual for Cassidy, who was equally impressed with the warm welcome she received and the quality of the Blazers program. "Abby's love for the game and her diligent work ethic are what immediately stood out to me," notes Menzies about her new signing. "In addition to that, her athleticism, speed, vertical, and leadership qualities will also contribute to her enormous growth potential with this team."
Having just finished their first full year of Canadian Collegiate Athletics Association (CCAA) participation, the Blazers will look to improve on their MCAC playoff finals appearance this March and push for a Manitoba championship when the new season begins in October The winner of the MCAC championship goes on to compete at a national level at the CCAA championship tournament. The CCAA is the national body for collegiate athletics in Canada, offering 10 national championships in seven sports. The Manitoba Colleges Athletic Conference joins five other established CCAA conferences; PacWest (BC), ACAC (Alberta-Sask), OCAA (Ontario), RSEQ (Quebec) and ACAA (Atlantic).
Print This Article