Blazers News
Women's Volleyball Adds Bite to the Attack with Kodiak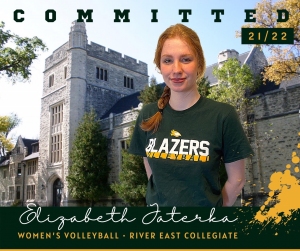 The CMU Women's Volleyball program is very pleased to announce the commitment of Elizabeth Jaterka for the 2021-22 MCAC season. A product of Winnipeg's River East Collegiate, Jaterka brings additional size to the Blazers attakers as well as valuable leadership qualities that will certainly help the young squad.
Passion for the game is what drives Jaterka to take her collegiate and club volleyball career to the next step at the University level with the Blazers. While Manitoba High School Athletics had to press pause on the 2020 fall season, this has only increased the passion for getting back to the court of this versatile left side, who also has experience hitting out of the middle.
Her height, versatility, and passion caught the eye of Blazers head coach Jaymie Menzies, who notes "Elizabeth is very passionate about the game and kas a keen desire to learn. She has shown to be very effective in the middle and on left side which will provide depth and flexibility to our offence. I look forward to seeing her height, creativity, and competitive nature in action."
Not to be understated, Jaterka's desire to learn has contributed to her development on the court, but also in leadership qualities that helped her lead her River East Collegiate Kodiaks to AAAA Provincial Championships in her grade 10 and 11 seasons, the last to be played in Manitoba.
Those same leadership qualities were recognized at the club level, where she was named team captain her last four seasons, including with Mavericks Volleyball Club, and most recently in the Providence Pilots Club system. Her biggest successes came in 2017, when she led her club to a National Championship title at the Division 2 Teir 1 level. Her contribution to her club's success clearly didn't go unnoticed as she was also named to Team Manitoba that same year, adding more valuable experience under high-level coaching.
Jaterka is excited to start a new chapter in her volleyball career, and relishes the opportunity to develop her game further under Blazers head coach Jaymie Menzies. Although competitive volleyball took a hiatus for the last year, the passion to compete alongside new teammates remains, as she and the Blazers look to start their defence of the MCAC Championship title in the fall.
The Blazers are poised to start the 2021-22 season as full members of the Canadian Collegiate Athletics Association (CCAA). The CCAA is the national body for collegiate athletics in Canada, offering 10 national championships in seven sports. The Manitoba Colleges Athletic Conference joins five other established CCAA conferences; PacWest (BC), ACAC (Alberta-Sask), OCAA (Ontario), RSEQ (Quebec) and ACAA (Atlantic). The 2022 CCAA Women's Volleyball National Championships will take place next March at Prince Edward Island's, Holland College.
Print This Article