Blazers News
Timothy Juvonen: November's Zueike Male Athlete of the Month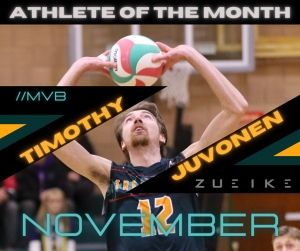 Congratulations to Timothy Juvonen of Men's Volleyball on being selected the CMU Zueike Male Athlete of the Month for November. The veteran setter has been a huge part of the Blazers' hot 8-1 first half start.
Following a comeback season in 2021-22 after missing out on the 2019-20 season due to injury, then the 2020-21 season due to COVID-19, Juvonen has started the season right where he left off leading the Blazers to a 2022 MCAC Conference Championship win and the first ever appearance by an MCAC squad at CCAA Nationals.
With so many offensive threats on his side of the net, getting them the ball in favourable positions is the primary goal, and Juvonen has been able to do so admirably, leading the conference in assists per set. The third year setter also puts up a considerable block, sitting in the top-five in the conference in solo blocks, despite sharing time on the court with teammate and fellow setter David Nelson. Juvonen has a 5-0 record when starting this year, including the team's first match against rivals Providence in a tough building to play in, as well as the last three matches. During the team's last run of wins the Blazers pushed to stay on top of the conference standings and to climb in the CCAA National Rankings, which note the top 15 teams in the country.
Juvonen's veteran presence on the court, on the sidelines, and at practice is also something not to be overlooked and something Blazers Head Coach Don Dulder has leaned on during the last few years. "Tim likes to play on the edge but he does have a tremendous passion for the game which rubs off on the team" quipped Dulder about his standout setter and captain. "He has tremendous leadership and part of Cam Gayleard's success on the outside is due to Tim's ability to hold the middle and create a one on one situation for the outside pin hitters. His deception and ability to not telegraph where he will set the ball is tremendous, and he has taken on a 'player coach' role in which he can lead by example and help push the team to master the detailed parts of their games."
The team's first half schedule wrapped up this past weekend and will be in action next in early January when they will jet out to Ontario to participate in the Niagara Knights Invitational and meet up with other CCAA competition from Ontario and Quebec. Their next conference match is scheduled for January 13 at home agaisnt the St Boniface Rouges.
Print This Article