Blazers News
Tiegan Kroeker: October's Zueike Female Athlete of the Month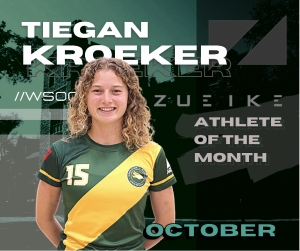 Congratulations to Tiegan Kroeker of Women's Soccer on being selected the CMU Zueike Female Athlete of the Month for October. The third year captain of the Blazers played a pivotal role in CMU's playoff push down the home stretch of the season.
Kroeker displays a calming but confident presence on the field, especially for her teammates who can play ahead of her on the pitch knowing they have one of the league's standout defenders shutting down the opposition's scoring chances. "Tiegan is such an impactful player because she's able to cove a huge area of the field due to her speed and fitness and she rarely loses 50/50 battles" noted co-head coach of women's soccer, Cara Isaak, regarding the play of their captain. The ability to turn 50/50 chances in the team's favour is certainly something every team desires in their top defenders, and Kroeker displayed that ability in spades, often being called upon to cover many of the league's top players.
In addition to her defending prowess, Kroeker continues to fine-tune the nuances in her game, and put in considerable work on her free kicks this year. That work came finally payed dividends on October 17th, when she scored on a beautiful set piece from about 25 yards out against the Brandon Bobcats, for her second goal of the campaign.
The month of October was not very kind to the CMU squad who lost a number of starters to injury, which led the Blazers to take their only points in the standings from the Assiniboine Cougars. It was a stretch like this that the Blazers needed a steady captain to lean on, and co-head coaches Cara Isaak and Lianna Bestvater fully realize the impact that their captain had on the team. "She did a great job motivating her teammates during some tough games when we were struggling with injuries and, as always, she led by example with her amazing work ethic and tenacity."
The Blazers were defeated in the MCAC Championship semi-finals by eventual winners St Boniface Rouges in the final weekend of the month, but Kroeker's efforts did not go unnoticed by the conference, as she joined teammate Ezri Trump in being named to the MCAC All-Conference Team for the 2021 season. Kroeker also received player of the game honours for the green and gold in their semi-final match, which recognized her valiant defending against a powerful St Boniface offence.
The outdoor season is now over for the soccer team, who will now take a short break before resuming training indoors ahead of the 2022 MCAC futsal season. That campaign starts up in January in a new tournament format that sees each school host a weekend of games ahead of championships in early March at the Universite de St-Boniface.
Print This Article