Blazers News
New Blazers' Midfielder Aims To Make a Positive Impact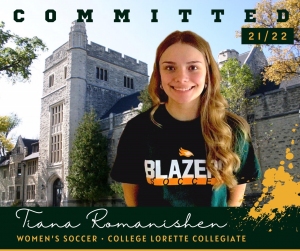 The CMU Women's Soccer program added more fuel to the fire this week, announcing the commitment of Collège Lorette Collegiate's Tiana Romanishen for the 2021 MCAC season. A pacy midfielder with a brain for the game, Romanishen has been a leader on her youth team with the Lorette Soccer Club and in her community by coaching the u-10 Lorette girls indoor team.
Romanishen carried her rural Manitoba high school to three Zone 13 championships and in her best season she helped advance Lorette to the Provincial Championship Final. Romanishen and Lorette won a bronze medal at Provincials in 2017.
As a club player, Romanishen was part of a strong Lorette program that produced second-place finishes in WYSA in 2015, 2016 and 2018. After years of being so close to a championship, Romanishen finally tasted club-glory in 2019 when Lorette topped the league.
"We are just getting a feel for Tiana and how she plays as the weather is improving for outdoor training and restrictions have lifted," said Blazer's co-head coach Lianna Bestvater. "Tiana has a great attitude, she's quick and she seems comfortable with the ball at her feet."
On top of her league success with Lorette Soccer Club, Romanishen and her youth teammates were finalists at the WYSA Boston Pizza tournament in 2016 and 2018.
"I think Tiana has a good feel for attacking," added the other half of the CMU coaching tandem, Cara Isaak. "On top of being quick and agile, she is good in 1 v 1 situtations. I think she will give defenders a hard time overall."
The newest Blazer recruit is eager to get her feet wet in the MCAC and hopes to carry over the success she has had in club and high school soccer when she begins lacing up her boots for CMU this September.
"I'm excited to compete at the next level of soccer especially being able to play in such a positive atmosphere and being able to get to know and also play with new people," she said. "I hope to make a strong and positive impact on the CMU soccer program and on the MCAC."
Print This Article