Blazers News
Men's Volleyball Leaps For Elite Winman Middle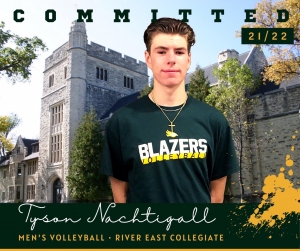 Blazers head coach Don Dulder continues to strength the quality and depth of his 2021-22 Men's Volleyball roster as the program enters its first full season in the CCAA, this week announcing the commitment of highly-regarded Winman Volleyball Club middle, Tyson Nachtigall.
Winner of his club's Winman Warrior Award in 2019, Nachtigall was recognized for combining leadership and performance with the respect he shows to officials, teammates and coaches.
"Tyson is a very experienced, legitimate middle who comes from a volleyball family and a strong club team," said Dulder. "Tyson will have an immediate impact on our team and at 6'5, be dominant middle in the MCAC. He has really good leadership qualities and is very intelligent which helps him make good blocking and attacking decisions. Tyson will be an outstanding character player who will fit right in with a roster of quality guys who also have high character. I am really excited to have him join us."
Nachtigall began his club volleyball journey with Winman at the 13U level and currently competes with Winman Clutch 18U. Part of back to back provincial gold medal performances in 2017 and 2018, Nachtigall and Winman went on to post a top ten finish at the U15 Tier 1 National Championships in Edmonton and won the local Selkirk 16U Tournament as a year under-age.
His 2019 16U Winman team won gold at the Manitoba Premier Tournament along with the U of Winnipeg Strike Tournament, and in 2020, at the 17U level, acheived a bronze medal finish at the Manitoba Premier Tournament, while competing against the 18U programs.
"I am excited to get on the court with some guys I have played with and competed against over the last few years," said the soon-to-be River East Collegiate graduate. "Playing with some experienced players and learning from them will be beneficial to my game. I am honoured to play and compete in the MCAC and the CCAA. I look forward to continue developing my volleyball and leadership skills at CMU as I strive to help out and contribute to the team's success."
Nachtigall, his CMU teammates and the MCAC as a whole are preparing for their first season as full members in the Canadian Collegiate Athletics Association (CCAA). The MCAC earned probationary acceptance into the nationwide association in 2018 under a two year term. 2021-22 marks season one with the new opportunities that come with CCAA membership including national awards and inclusion in the CCAA National Championships.
Print This Article