Blazers News
Men's Volleyball Adds Model Teammate Fabio Ferreira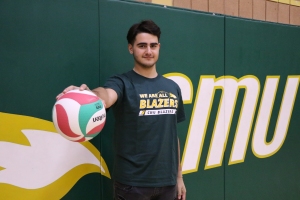 The CMU Men's Volleyball program is very pleased to announce the commitment of Fabio Ferreira for the 2022-23 MCAC season. The Kelvin High and 204 Club Volleyball product comes to the program looking to develop his game at the next level.
Ferreira will begin the Blazers season in a red shirt capacity, with the hopes of developing into a regular roster player in the future. He has the height, work ethic and versatility to grow his game at the university level and will be ready to step in whenever the time comes.
Ferreira, a native of Brazil, moved to Canada prior to high school and played for the Kelvin Clippers at the AAAA level of the MHSAA. This past season he helped his squad win their division, earning them a berth at the Provincial Championships, which itself was a notable accomplishment for a school not normally recognized as a strong volleyball contender. A team captain throughout his high school career, Ferreira also received MHSAA All-Star recognition for both his junior varsity seasons, and his one full varsity season after COVID-19 cut short his grade 11 campaign. After playing primarily on the left side and middle during his junior varsity seasons, Ferreira moved to the right side for his final high school season, filling the spot of his former Kelvin teammate, and now fellow Blazer Joel Heppner, who helped connect him with the coaching staff at CMU.
His size and athleticism, along with a willingness to learn new things has allowed Ferreira to expand his sporting endeavours while at Kelvin. While it's no surprise that he has been a member of Kelvin's soccer squad considering his upbringing in Rio de Janeiro, Ferreira has also used his size on the American football field, as well as on the basketball hardcourt, fully utilizing his time with the Clippers.
On the club side, Ferreira has played all his ball in the 204 system, beginning with the white squad for his 15U and 16U seasons, and has finished his club eligibility with the cardinal team. This year's team won gold in tier three of division two in the recent National Championships in Edmonton, capping off a fantastic final season with the club. Primarily a left side with 204, Ferreira has gained valuable big-tournament experience that he will look to continue when he begins his university career with the Blazers.
In the classroom, Ferreira is looking forward to pursuing a business degree while at CMU, a further draw for the newest Blazer, who is excited to join a squad that has had plenty of success of their own over the last few seasons under head coach Don Dulder. "Fabio brings an excellent work ethic to our team, he has a strong desire to work hard and improve to bring his skill to a college level," stated Dulder about his latest signing. "He has good height at 6'3" and is a tremendous team guy which will fit in well with the team we have. I am excited to see him develop into a good college player."
This past March CMU became the first ever representatives of Manitoba in men's volleyball at the Canadian Collegiate Athletic Association National Championship, and will look to build on their successes at home to bring their game to the national stage again in 2023. The 2022-23 MCAC season is set to begin in late October, after the team heads to Columbia Bible College in Abbotsford, BC where they will see PacWest competition in late September.
Print This Article