Blazers News
Layla Makes the Leap to MCAC with Blazers Women's Volleyball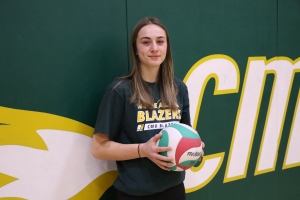 The CMU Women's Volleyball program is very pleased to announce the commitment of Layla Reichert for the 2022-23 MCAC season. The Grant Park High and Dynamo Club product will add another offensive weapon to the Blazers' outside hitters for the upcoming year.
Reichert will continue her volleyball journey at CMU after beginning her career as a rural athlete in Lac du Bonnet where she broadened her athletic horizons on the basketball and badminton courts as well, before heading to the city for secondary school at local Grant Park High School beginning with her grade ten year. In her first season of AAAA ball her Pirates team won the city championships, and after a covid-cancelled grade eleven year, the team reached the finals again this past high school season. The 5'10" left side earned herself an All-Star nod in her graduating year at the city-wide championships.
In the club scene, Reichert played her 15U season with Pirates Volleyball Club with whom she gained experience in the middle as well as in team leadership, captaining the team to a National Championships appearance. Following that season she then transitioned to Dynamo Volleyball Club for her reimaining years of club eligibility where she featured on the left side and grew her overall game with the team. Reichert has some familiarity with her new Blazer teammates already, in particular with Blazers Female Rookie of the Year Rachel Bartel who was her 17U teammate with Dynamo.
Women's volleyball head coach Jayme Menzies scouted Reichart at a club scrimmage and instantly saw her potential for making an impact on the MCAC with CMU. "Layla is a powerful offensive weapon at the net and from the serving line," notes Menzies about her most recent signing. "Her reach, power, and desire to compete are going to make an immediate impact on the team."
Reichert is excited to join the Blazers, noting CMU's small class sizes, proximity to home, and very welcoming atmosphere as a huge draw for her. On the academic side she is considering studying business at CMU's Redekop School of Business while not on the court with her new teammates.
Having just finished their first full year of Canadian Collegiate Athletics Association (CCAA) participation, the Blazers will look to improve on their MCAC playoff finals appearance this March and push for a Manitoba championship when the new season begins in October The winner of the MCAC championship goes on to compete at a national level at the CCAA championship tournament. The CCAA is the national body for collegiate athletics in Canada, offering 10 national championships in seven sports. The Manitoba Colleges Athletic Conference joins five other established CCAA conferences; PacWest (BC), ACAC (Alberta-Sask), OCAA (Ontario), RSEQ (Quebec) and ACAA (Atlantic).
Print This Article