Blazers News
Blazers Keep Fort Richmond Connection Strong with New Recruit Ikizakubuntu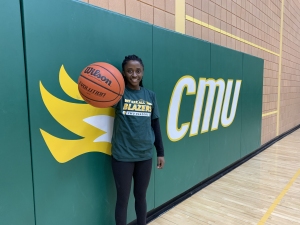 The CMU Women's Basketball program is very pleased to announce the commitment of point guard Elizabeth Ikizakubuntu for the 2022-23 MCAC and NIAC seasons. The Fort Richmond Collegiate product comes to CMU with high hopes for making an immediate impact on the program.
Elizabeth Ikizakubuntu joins CMU Blazers Athletics as part of a steady stream of Fort Richmond Collegiate grads to join the ranks over the past number of seasons, and will look to fill the shoes of outgoing graduate, and defensive all-star point guard Shirliz Apiyo, herself a former Fort Richmond Centurion. The Centurion to CMU connection has been strong in recent years, starting with Apiyo, who joined the Blazers in 2017, and also includes Blazers soccer captains Tiegan Kroeker and Will Anderson, as well as 2020 men's volleyball recruit Felix Stetefeld, along with his teammate Duncan Petrie who joined the Blazers for the 2021-22 season as just a few examples of current CMU student-athletes that were once Centurions.
The latest Blazers women's basketball addition comes to CMU with a strong work ethic, as well as leadership potential, having been a co-captain of her high school Centurions squad, who currently sit in eigth spot in the Manitoba High Schools Athletic Association "AAAA" power rankings this season. Personal accolades include player of the game recognition at the Pembina Trails Bison Classic Tournament in both the 2019 and 2021 editions of the showcase, showing that the Blazers can expect Ikizakubuntu to support the team in many facets of the game.
High school coach Deondra Twerden-Peters speaks highly of her latest commit noting that "Liz is a dynamic player who isn't afraid to go to work! As our go to defender, her quickness, intensity, and court vision allowed her to shut down some of the top players in the province this season." The similarities to graduating Blazer point guard Shirliz Apiyo, who was recently recognized as Blazers women's basketball Most Outstanding Defensive Player, continue, with a well-rounded game also recognized by Twerden-Peters: "In addition to her outstanding defensive skills she is also an offensive threat with her ability to drive to the hoop or shoot the three when needed. Liz is someone who leads by example and is always willing to do what it takes to get herself and her teammates to the next level. She is well-liked by her teammates and peers and will be an outstanding addition to the Blazers next season."
Ikizakubuntu is excited to play and further her basketball career at CMU, which will give her the opportunity to experience basketball at a different level in the MCAC here at home in Manitoba and the NIAC in the Northern United States. Blazers women's basketball head coach Joe DiCurzio is equally excited for his newest signing, stating "we are thrilled to have Liz join the Blazers. She was one of the best players in one of the top programs in the province, the Fort Richmond Centurions." He continued noting her drive, skillset, and intangibles: "Liz is a terrific guard who is known as an amazing player at both ends of the court. She averaged almost 25 points per game this year and was always responsible for shutting down the other team's best guard. Elizabeth has a real passion for the game of basketball, is always working extremely hard to improve her game, and will be a great contributor to the Blazer success this coming season.
Fresh off winning their fourth consecutive MCAC Basketball Championship, Ikizakubuntu and her new Blazer teammates will look to defend their provincial title again for the upcoming 2022-23 MCAC season. With border crossing regulations and restrictions to the states set to loosen, CMU is poised to rejoin the NIAC conference next season in a condensed format with matchups against the other private colleges in the league that includes teams from Minnesota as well as North and South Dakota before a championship tournament to cap off the year. The Blazers captured their first ever NIAC title in 2020, their most recent season in the conference prior to the COVID-19 border closures that quashed the team's chances of defending their title when basketball returned to play this past season.
Print This Article