Blazers News
Blazers WVB Double Dip from Sturgeon to Complete Dynamic Duo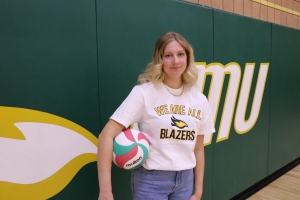 The CMU Women's Volleyball program is very pleased to announce the commitment of Bronwyn Holroyde for the 2023-24 MCAC season. The Sturgeon Heights and Bandits Club Volleyball product will come to the Blazers with an instant connection with her familiar high school and club setter, keeping the duo intact and looking to reach new heights together.
Blazers women's volleyball are bringing in some built-in chemistry and top performers from the Manitoba High School Athletic Association "AAAA" Provincial Champions this season with Holroyde joining her Sturgeon Heights Huskies setter Chelsea Stewner in CMU's green and gold. Holroyde was part of the Sturgeon squad that pulled out a thrilling provincial championship win over the Vincent Massey Trojans as the team completed the reverse sweep for the big comeback win in the final, raising the program's profile after being provincial semi-finalists only one season prior. The team's assistant captain received plenty of praise for her play in the middle this season, capturing a provincial championship All-Star award to go along with her graduating All-Star recognition. Success has not just come on the court for Holroyde, as she also suited up for the Huskies girls hockey team, where she is an assistant captain as well, and was named MVP for the 2021-22 season.
With the summer beach season fast approaching, Holroyde is excited to defend her Sargent Park rec league title from last season, but first she has a final club indoor season to cap off her youth volleyball career. She competes for Bandits Volleyball Club alongside fellow Blazer signing Stewner, producing a familiar and formidable attack, with Holroyde leading the front row block from the middle position on the net. She recently returned from a tournament in Sacramento, California alongside her Bandits teammates, and the squad placed fourth this past weekend at the Manitoba Provincial Club Championships ahead of Volleyball Canada Club Nationals later this May in Calgary. Bandits finished with bronze at provincials last spring, and went on to capture bronze in division 1, tier 4 at the 2022 17U Nationals.
While chemistry on the court will be a given, Holroyde will not be studying sciences at CMU, instead focusing on pre-law courses, something her new head coach Jayme Menzies will be able to coach and mentor her in as well. "After only one open gym with the Blazers, I was confident Bronwyn would fit in seamlessly with our team," stated Menzies, who has been stocking up her roster with top talent from across the province. "She is a vocal leader, an aggressive attack, and a composed first contact. She is just as focused and diligent in the classroom as she is on the court."
Holroyde got connected to CMU by her high school assistant coach Andrei, and clearly the Sturgeon connection is strong this year, as she joins not only high school teammate Stewner on the women's side, but also men's volleyball recruit Ryan Bilous in heading across the Assiniboine to CMU. Coming into the Blazers program with friends is a big bonus, but Holroyde is also excited to meet new people while imiproving athletically and playing volleyball at the next level with her new team.
Looking ahead to next year, the Blazers will aim to improve on their MCAC playoff appearance this February and push for a Manitoba championship when the new season begins in October. The winner of the MCAC championship goes on to compete at a national level at the CCAA championship tournament, with this past season's tournament held in Nanaimo, BC. The CCAA is the national body for collegiate athletics in Canada, offering 10 national championships in seven sports. Now finished its second full year of participation, the Manitoba Colleges Athletic Conference joins five other established CCAA conferences; PacWest (BC), ACAC (Alberta-Sask), OCAA (Ontario), RSEQ (Quebec) and ACAA (Atlantic).
Print This Article