Blazers News
Blazers Men's Volleyball Ink Local Talent Francisco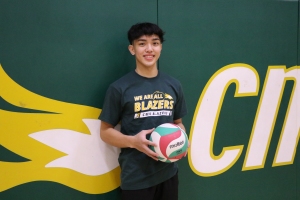 The CMU Men's Volleyball program is very pleased to announce the commitment of Albert Francisco for the 2022-23 MCAC season. The local Shaftesbury High product comes to CMU after starting his post-secondary studies at the University of Manitoba.
Albert Francisco may have spent the last two years studying at the University of Manitoba, but time away from competitive volleyball has only made his desire to return to high-level competition greater than ever. The 5'11" versatility player has the chance to fill the void at libero left by graduating player Levi Klassen, but may also showcase his athleticism at left side throughout the coming year.
A Shaftesbury graduate, Francisco enjoyed plenty of success with his high school Titans, playing at the varsity level beginning with his grade nine season and continued with the team for the remainder of his high school career. Highlights of his time at Shaftesbury include a second place finish at the TecVoc varsity boys tournament in 2019, where he also was named tournament all star. Three times he was named most valuable player for volleyball at Shaftesbury, where he featured most prominently as a starting left side.
At the club level, Francisco started out with Pirates Volleyball Club in 2017, then moved to 204 Club Volleyball for the 2018 and 2019 seasons where he first connected with current Blazers men's volleyball setter Cameron Chan. That connection pulled him back into competitive volleyball this past year after an ID camp session had head coach Don Dulder impressed with his athletic ability and refined skills.
"We are very happy to have Albert joining us next year," stated men's volleyball head coach Don Dulder about his first recruit for the 2022-23 season. "He is an extremely good passer and defensive player that can play libero or on the left side. Albert brings a great deal of experience with him having played 204 club ball and will fill a void on our team as a great versatile player, we're very excited to have him join us."
Not one to go unnoticed on the court, Francisco also has a resume of team Manitoba pedigree, including an appearance on the Team Manitoba youth team that competed in the Canada Cup in Richmond, BC in 2018. His agility and athleticism also transfer well to the beach court, which saw him compete in the Western Canada Summer Games in Swift Current in 2019, with his tandem finishing a very respectable fourth place.
Francisco is counting the days to get back on the beach court for some summer training before heading back to the gym in fall to join his new Blazer teammates and continue his development and hopefully add some more wins for the program. He will get his first crack at high level play this coming September when the team travels to Abbotsford, BC for exhibitions with some Western Canadian opponents ahead of the 2022-23 MCAC season.
This past March CMU became the first ever representatives of Manitoba in men's volleyball at the Canadian Collegiate Athletic Association National Championship, and will look to build on their successes at home to bring their game to the national stage again in 2023.
Print This Article