Blazers News
Ayesha Umar: September's Zueike Female Athlete of the Month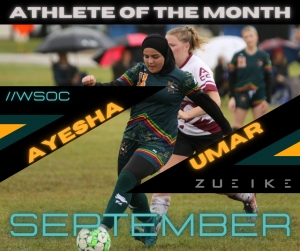 Congratulations to Ayesha Umar of Women's Soccer on being selected the CMU Zueike Female Athlete of the Month for September. The second year midfielder has brought a talented boot to the pitch this season, scoring two critical goals in the Blazers' two wins on the season thus far.
In a season where the Blazers have struggled to find the back of the opponent's net on several occasions, Umar has come up clutch with the two game-winning goals in the Blazers' two wins at the halway point of the season. On a drizzly day out at Sturgeon Road Field, Umar was able to extend the Blazers' early lead over the visiting Assiniboine College Cougars with a slick low-corner strike off the dribble that stood as the game-winner in the team's 2-1 victory, marking the squad's first goals and points on the campaign. Then, in a tightly contested match at the home of the Brandon Bobcats this last Sunday, Umar showed her range of scoring talent, potting the lone goal of the match on a free kick strike from distance that landed perfectly in the top-corner out of reach of the Bobcats' keeper, a goal that could only be described as highlight reel material which had her fans throwing out mentions of "Messi" and "The GOAT" to describe the marker.
Blazers Women's Soccer co-head coaches Cara Isaak and Lianna Bestvater weighed in on their top producer this month stating "Ayesha's had an outstanding start to the season. She's scored the game-winning goal for oth of our wins and they were beauties. Her free kick goal for the win against BU could not have been more perfectly placed. It was unstoppable, and to have the confidence and calmness to do that with the game on the line is amazing for her. Aside from her goals, Ayesha has played every minute of every game and plays hard until the final whistle. She's creative and smart with the ball at her feet and she works very hard to defend. She's one of the most coachable players we've met too, always asking great questions and analyzing her own play. Ayesha is just a wonderful person to have on your team."
A late addition to the team last season, just prior to the start of the 2021-22 campaign, Umar has been a steady presence in the midfield of the Blazers' starting lineup since, and looks to be a big part of the squad moving forward. The Blazers' early success against Brandon-based teams bodes well for the squad, as four of the team's six remaining games come against either the Bobcats or the Cougars, including two late-season trips to the Wheat City ahead of MCAC Championships there in late October.
Print This Article