Blazers News
Anna Pyne: March's Zueike Female Athlete of the Month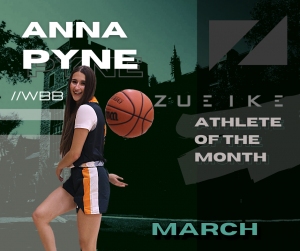 Congratulations to Anna Pyne of Women's Basketball on being selected the CMU Zueike Female Athlete of the Month for March. The second year Blazers guard came up clutch in her team's MCAC Championship defense to hold off the hosts Providence Pilots and earn the Blazers their fourth consecutive conference title.
After Pyne's Blazers capped off a perfect 12-0 season to close out February, the biggest game of the year was the lone matchup remaining, as the top-seeded CMU side earned a bye past the semi-final round and directly into the MCAC Championship final. In front of a raucous Providence-dominated crowd, the Blazers got off to a great start in the game and never relinquished the lead, thanks in large part due to the play of their guards including Pyne along with graduating all-stars Julia Schatkowsky and Shirliz Apiyo.
Coming out of the half-time break, the host side made a clear push to close the gap on the powerhouse Blazers, with an eye to shut down their primary perimeter threats. "Anna had an incredible last quarter in our championship game," noted women's basketball head coach Joe DiCurzio. "Providence was playing a special defense in order to stop Anna and our other guards. In that fourth quarter Anna was spectacular hitting a three pointer, a two pointer, and fininishing off a three point play." Those points turned out to be the dagger for the Blazers as they turned in a 79-57 win to seal the championship win.
While her play with the ball in her hands was certainly noticeable, the second year guard's work off the ball was also worthy of note, with Pyne recording two of her game-high five assists in the fourth quarter, along with two steals. Her game has certainly grown since her debut season with the Blazers in 2019-20, and the program will have high expectations of more solid play in seasons to come as they will look to Pyne to fill the hole at guard left by Apiyo and Schatkowsky.
The Blazers' seasons have all wrapped up for 2021-22, but we will look forward to seeing the squads back on the court next fall when the program starts up their conference games for the 2022-23 season. All signs point to a return to Northern Intercollegiate Athletic Conference play next year, with cross-border travel to the States for matchups with the conference's Christian contingent in Ellendale, North Dakota, Bemidji, Minnesota, and Plymouth, Minnesota.
Print This Article