Zach Bartel: September's Zueike Male Athlete of the Month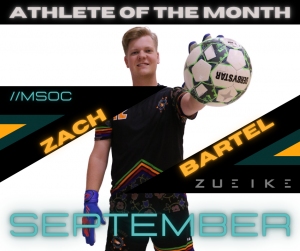 Congratulations to Zach Bartel of Men's Soccer on being selected the CMU Zueike Male Athlete of the Month for September. The second year goalkeeper has seen a lot of action throughout the first month of the MCAC season and has grown immensely as a player since his debut last year.
Through the first six games of the season, Bartel has faced more shots than any other keeper in the league, and has managed to keep his Blazers in the game on several occasions, most notably in two close losses to the St Boniface Rouges, who were at the top of the MCAC standings at the time. An 0-2 loss in their second game of the season was a barn-burner of an affair that remained tied at zeros late into the second half when the St Boniface side was finally able to break the seal and potted two late goals to take full points from the match. The lone true home game of the season so far, the Blazers are looking forward to a stretch of home games in the second half that will hopefully bring about more successful outcomes as the playoff push continues.
Coming from his first year as Blazers goalkeeper last season, to starting netminder for futsal, the development in Bartel's game is noticeable, as is his positive energy on the field. Blazers Head Coach Anderson Pereira had this to say about his last line of defence: "Zach is having a great season, despite the results not coming our way he is doing a great job communicating and helping to organize the backline. Zach is a very dedicated player and has improved immensely from his first season. He is always doing his best to absorb as much information as possible in every training session and you can see the results on the field. He has been making great saves for us every game and stepping up his sweeper and distribution game as well."
After reaching the MCAC Finals in both outdoor soccer and futsal last season, the Blazers are fighting for their spot to get back into the MCAC Championship weekend this year, with some critical matchups with the Assiniboine Community College Cougars upcoming in October. The team has traditionally performed well late in the season, earning upset wins in the semi-finals on both those playoff appearances last year, but the squad will need an earlier push this season to break back into the top four, and many of the late season results will rest on the play of Zach Bartel.
Printed from: blazers.cmu.ca/zach-bartel-athlete-of-september