MCAC Delays Restart on the 2021-22 Season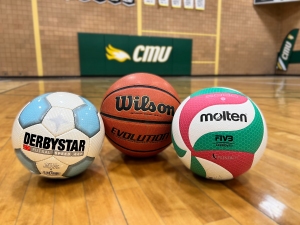 The second half of the Manitoba Colleges Athletic Conference (MCAC) season, which was set to resume play this weekend following the holiday break, has been paused for the next two weeks, with the new restart date tentatively scheduled for January 28th.
The decision comes on the heels of skyrocketing COVID-19 case numbers amidst the Omicron variant wave firmly hitting the province. Although Provincial health restrictions do not prohibit the playing of sporting events, the resumption of studies in an online format for many schools, including CMU, would have sent mixed signals about concerns about student safety. "The health and well-being of our student-athletes, coaches, staff, and fans is foremost in our minds as we reached this decision" commented MCAC Executive Director, Shane Ray. "While public health orders allow the continuation of the season, this pause is one way the conference can contribute to the ongoing battle against COVID."
Taking an extra step of precaution is something that CMU has continued to do throughout the pandemic. Full team practices for all active Blazers squads have been temporarily suspended in favour of small group training for the next two weeks with full training set to resume January 24th in line with CMU's hope to resume in-person classes. Additional requirements for safety on campus have been announced, which include stricter mask requirements, vaccine booster requirements for all staff and students when eligible, as well as mandatory weekly on-campus rapid-testing once in-person classes begin.
Basketball and volleyball games will resume according to the original schedule once gameplay is permitted, with games missed on the next two weekends cancelled for the time being, with the hope that matches can be made up at a later date. The first leg of the futsal tournament season set to be co-hosted by CMU and Providence will also require rescheduling. Any additional games needed to be cancelled due to institutional policy or COVID concerns among teams, including if any team does not have enough healthy eligible players to compete, will be considered cancelled, not forfeited, so as not to adversely punish teams in the league standings.
It is expected that the Blazer Pass system used during the first half of the season will also be temporarily suspended, with tighter capacity limits placed on sporting events. Planning is ongoing regarding a new spectator policy; however, it is likely that only current CMU students and staff will be permitted to attend home events for the foreseeable future until Manitoba Public Health restrictions are relaxed.
The MCAC schedule will be evaluated on an onging basis in an effort to provide a complete season for the student-athletes, which could result in amended conference championship shcedule to allow for the completion of the full 2021-22 campaign.
Written with notes taken from the Manitoba Colleges Athletic Conference release
Printed from: blazers.cmu.ca/mcac-delays-restart