Brooklyn De Jong: February's Zueike Female Athlete of the Month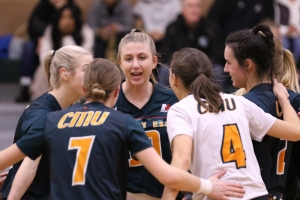 Congratulations to Brooklyn De Jong of Women's Volleyball on being selected the CMU Zueike Female Athlete of the Month for February. The third year middle was a consistent force in the Blazers' front court during the home stretch of the season.
Although the season has now wrapped up, Blazers Women's Volleyball had a strong finish to their regular season with wins in two of their final three league games, including a straight-sets victory over the eventual MCAC Champions St Boniface Les Rouges. The team won nine sets and lost only six throughout their regular season games in February and their most veteran player and captain Brooklyn De Jong was a big part of that late-season success.
De Jong was a picture of consistency throughout her team's final four matches, averaging over 5.25 kills, 1.75 blocks, and 2.75 digs, exhibiting a well-rounded game not normally seen from players in the middle position. Over the season De Jong tallied 70 kills over 16 matches played, the top amongst middles on her CMU squad. Leading by example, the lone third year player on the team helped captain her young squad to finish the season strong, capturing the third seed in the MCAC playoffs, setting up a date with the Providence Pilots in the semi-finals. Although the team wasn't able to rekindle their upset magic from 2022 when the same matchup saw the Blazers move on to the finals, De Jong made a big impact in this year's game, eraning herself player of the match honours for the green and gold.
Blazers Women's Volleyball Head coach Jayme Menzies has leaned on De Jong and her experience to help the her young teammates through the season both as a veteran presence on the court and in the classroom. "Brooklyn is team co-captain for many reason that were on display in our final matches of the season," notes Menzies. "Her support for her teammates is unwavering, her maturity is stabilizing, her performance is intellectual and consistent, and her celly is contagious!"
The Blazers' season now complete, De Jong and her teammates now look ahead to offseason training that will see a huge contingent of her young squad back to compete once again for the MCAC crown starting in the fall of 2023. Since the 2021-22 season, the winners of the MCAC Title in MCAC soccer and volleyball have had the opportunity to compete for a CCAA National Championship, which will be hosted by the Alberta College Athletics Conference next March. This year's event is being held this week, with the MCAC champions St Boniface Les Rouges representing Manitoba at the national event at Vancouver Island University in Nanaimo, BC.
Printed from: blazers.cmu.ca/brooklyn-dejong-female-athlete-of-february