Schindel Will Look to Lock Down the Back Line for Blazers Men's Soccer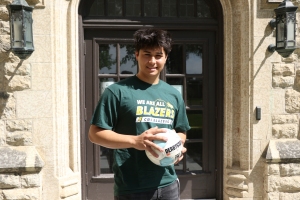 The CMU Men's Soccer program is very pleased to announce the commitment of Noah Schindel for the 2022-23 MCAC season. The Sisler High product comes to CMU with plenty of big-game experience, and will look to lock down the defence from the centreback position.
A 2020 Sisler High graduate, Schindel will bring a maturity and composure to the Blazers' back line, along with a big potential for leadership on the squad. The former Spartan featured at centreback for his high school club, and was named MVP in his grade eleven year. Heading into what looked to be a fantastic final year with the school, Schindel was excited for what more MHSAA AAAA competition could bring, only to have his grade twelve season cut short due to the pandemic.
Most of the 6'1" defender's experience has come from his long tenure with FC NorthWest, and Schindel got his start early, age advancing for his first few seasons with the club. His squad captured the Provincial Championship title as early as his U13 year, and also featured in a string of Provincial Finals from U15 up to his final year at U17. Schindel held the team captaincy for many of those teams as the steady presence in front of goal.
For the past two years Schindel has been working and playing soccer, in order to save up for his post-secondary education, and is excited to meet new faces and play with a new team. "I know how condensed the season is and the hard work it takes to get to championships and potentially the next level of a CCAA National Championship," stated the newest Blazer during his signing interview. Blazers men's soccer head coach Anderson Pereira will lean on Schindel and his maturity, leadership, and work ethic to help hold the team in formation following the graduation of the Blazers' legendary defender Daniel McIntyre-Ridd, and star holding midfielder Will Anderson. "Noah brings a lot of quality and composure to our defensive side," noted Pereira. "He is a versatile player with experience and maturity that I'm sure will help the team a lot this season on and off the field. I think he will be one of the leaders on the team right from the start, and will bring lots of positivity and creativity to our team and help manage our build up with patience and quality. We are looking forward to getting started and to see Noah improve the team while learning more about the game and developing as a player."
The 2021-22 outdoor season marked the first time that the MCAC Champion moved on to represent Manitoba at the CCAA National Championships. The Blazers narrowly missed out on that opportunity this past season, but will look to continue to build and grow their program to contend once again when they kickoff their season next September. This year's CCAA National Championship will be hosted by the PACWEST conference in British Columbia from November 9-12.
Printed from: blazers.cmu.ca/schindel-lock-down-defence