Men's Soccer Keeps the Brazilian Connection Going with Addition of Riko Tore Cabrera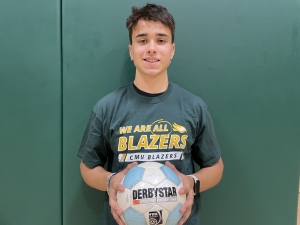 The CMU Men's Soccer program is very pleased to announce the commitment of Riko Tore Cabrera for the 2022-23 MCAC season. The Kelvin High product comes to CMU following a successful season with his high school club.
The Blazers men's soccer program looks once again to the hotbed of talent coming out of South America to bolster its squad after another MCAC finals appearance in the outdoor season of 2021, as well as the indoor futsal season in spring of 2022. Born and raised in Brazil, the Blazers' newest signing moved to Canada eight years ago back in 2014, and has been growing his game on Canadian soil ever since.
Tore Cabrera is coming off a successful season with his Kelvin Clippers, that saw them go undefeated during league play, racking up a notable eight wins and only one draw including their MHSAA Provincial Qualifiers, earning them a spot in the top tournament in the province. While their first match of the AAAA Provincials bracket ended a tight 0-1 loss to J.H. Bruns, the team rebounded with consecutive wins over Vincent Massey Brandon and the Linden Christian Wings to win the consolation bracket and place fifth in the province for high school soccer. Tore Cabrera also brought his athleticism and hard-working approach to the American football team at Kelvin, where he featured as a running back, and also enjoys playing community league basketball in the offseason.
A 'student of the game,' Tore Cabrera loves to watch the top club teams on television, including his favourite team Chelsea FC of the English Premier League to study all the latest tactics and play from the top players in the world. Just this past spring he was fortunate enough to travel back to Brazil to watch his favourite Brazilian team Palmeiras play a match at their home stadium in Sao Paulo.
Tore Cabrera's club soccer career in Canada began with Winnipeg South End United but he has most recently played for the Corydon Comets, and won a city championship with them. The defensive midfielder has put in the work to get back to top form after an unfortunate incident during his grade nine year had him break both of his legs, which required extensive rehab and significant time away from the game.
Men's soccer head coach Anderson Pereira, himself a native of Brazil, is very excited to add Tore Cabrera to the roster this season stating "Riko is a very solid and creative player that will for sure be a great addition for us this year. Riko has a great personality and he is a hard working player that will give everything for the team which will help him to fit right in on our roster. That persevering attitude combined with his 'Brazilian touch' leaves me no doubt that he will be a standout player even in his first year here, and help us achieve our goals this season."
When he was only nine years old, a school project had Tore Cabrera google 'schools in Winnipeg,' which is when CMU first hit his radar, and he has wanted to attend ever since. He is already familiar with some of the current Brazilians on the CMU roster, including veteran standout Victor Hugo, as well as last year's rookie phenom Matheus Aquino, and futsal magician Matheus Moreno through work and the soccer community, and Pereira is hoping Tore Cabrera can keep the connection strong with his teammates this upcoming season. With a great science program and a well-established Brazilian chemistry, the fit appears to be just right for the newest Blazer who will be studying biology and anatomy in the hopes of pursuing kinesiology or athletic therapy.
The 2021-22 outdoor season marked the first time that the MCAC Champion moved on to represent Manitoba at the CCAA National Championships. The Blazers narrowly missed out on that opportunity this past season, but will look to continue to build and grow their program to contend once again when they kickoff their season next September. This year's CCAA National Championship will be hosted by the PACWEST conference in British Columbia from November 9-12.
Printed from: blazers.cmu.ca/mens-soccer-brazilian-pipeline-cabrera