Men's Basketball Preps for the Season with Late Summer Additions
Part 2: Parker Hamlin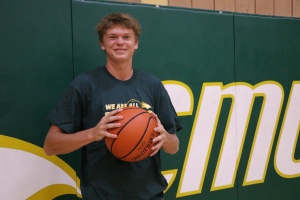 The CMU Men's Basketball program is very pleased to announce the commitment of Parker Hamlin for the 2022-23 MCAC and NIAC seasons. The local Oak Park and Central Canada Prep product will bring a four position versatility to the Blazers when he joins the squad for the upcoming season.
Like his long-time teammate and recent signing George Fedorchuk, Hamlin is a 2021 graduate from Oak Park High, and also played with Central Canada Prep this past season. At 6'5" Hamlin has the length to play as a forward, with the shooting and handling skills to work the perimeter as well.
A short but productive high school career saw Hamlin gain some big-game experience througout his junior varsity and grade eleven varsity seasons, including tournament wins at the Winnipeg Invitational Tournament and at the Oak Park Shootout tournament where he received player of the game recognition. The team travelled for tournaments in Saskatchewan and Edmonton and matched up with some stiff Western Canadadian competition in his grade eleven year, and were headed into Provincials as the sixth-ranked team in Manitoba before the pandemic hit. A point guard throughout high school, Hamlin developed his ball handling and play-making abilities under the keen eye of head coach Jon Lundgren.
The self-professed 'spark' that pulled his friends into the basketball scene, Hamlin started his club career early during his grade six season with Team Flex, who later became Crossover. Alongside familiar teammate George Fedorchuk, Hamlin's club squad took home the Peg City Championship title in 2019, adding a player of the game award along the way. Despite a condensed season in his final year of club eligibility, Hamlin gained valuable experience in tournaments in Toronto and Regina playing against the top high school prospects in the country.
After his grade twelve high school and club seasons were cancelled due to COVID, Hamlin continued to develop his game post-high school with Central Canada Prep and featured in an exhibition with the Blazers this past season where he caught the eye of head coach Scott Martin. He developed his game further throughout his time in the club and prep systems, adding comfort at the shooting guard and small forward positions as he continued to grow his game while growing physically as well. Hamlin will also get the chance to play his former prep team from the opposing side this year, with a home and home series set with CC Prep to start the year on October 7th and 8th.
Excited about the opportunity to play a regular season once again after a couple years of only tournament and exhibition play, Hamlin is ready to hit the hardcourt this fall with his new Blazer teammates. Head coach Scott Martin is thrilled to see what Hamlin can bring to his re-built squad stating "I'm looking for big things out of Parker this year. As a bit of a late bloomer, his size and skill now allow him to play four positions up and down our lineup, and will look to have instant chemistry with his longtime teammate George Fedorchuk."
Following their MCAC Basketball Championships Finals appearance this past March, the Blazers will set their sights on a return to the provincial championships next season. With border crossing regulations and restrictions to the states eased, CMU is poised to rejoin the NIAC conference next season in a condensed format with matchups against the other private colleges in the league that includes teams from Minnesota as well as North and South Dakota before a championship tournament in the Twin Cities to cap off the year.
Printed from: blazers.cmu.ca/mens-basketball-preps-parker-hamlin