Men's Basketball Adds Neufeld to Continue the Blazers Family Connection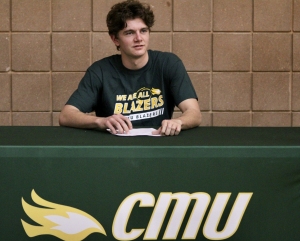 The CMU Men's Basketball program is very pleased to announce the commitment of Derek Neufeld for the 2022-23 MCAC and NIAC seasons. The Walter W. Brown product joins new teammate Daniel Cameron as the second Saskatchewan player to sign on with Blazers men's basketball this spring.
Derek comes to CMU and joins a line of siblings that have impacted Blazers programs over the last number of years, including his sister Rachel Neufeld, who currently features for Blazers women's soccer, as well as older brother Jesse Neufeld, who was with Blazers men's volleyball from 2017-2019.
The Langham, Saskatchewan product is a multi-sport high school athlete, with game smarts that should help him develop quickly in the Blazers program. The 6'2" point guard and team captain led his high school squad to win their conference at the 2A level, and entered the provincial championships as the seventh seed, where they finished top eight in Saskatchewan. A perennial MVP on his high school team, Neufeld clearly has the commitment and leadership qualities to take him to the next level with CMU.
Apart from basketball, Neufeld also starred on many other teams in his hometown of Langham, Saskatchewan. His resume includes competing at the individual sports of cross country running, track and field, and badminton, as well as additional team sports of soccer and volleyball. He captained his seven-aside soccer team to a bronze-medal finish at provincials this season, as well as a couple undefeated seasons in eleven-aside from 2018-2021 that resulted in a gold medal in 2018, and saw the team take home bronze in 2019. On the track he qualified for provincials at the 400- and 800-metre distances, as well as for pole vaulting, all of which saw him finish top ten in the province, while he also competed at the Saskatchewan championships for cross-country the past three years.
Blazers men's basketball head coach Scott Martin knows Neufeld holds all the building blocks for success with a little more development at the college level. "Derek is carrying on a family tradition in a Blazer uniform, and is athletic and smart. He will be taking a big step from 2A basketball in Saskatchewan, and will need some time to develop, but I firmly believe he will rise to the challenge and be a part of future success with the program."
Neufeld is excited about the opportunity to play college basketball in Manitoba and the northern United States, and using that platform to further his skills in the game. "What excites me most about playing for CMU is having the chance to play for a skilled team that will definitely challenge me much more than my high school team," notes the newly signed Neufeld on what lies ahead for him with the green and gold. He adds his focus for the season will be "learning new skills and hopefully developing into a much better player than I am right now."
Fresh off an MCAC Basketball Championships Finals appearance, the Blazers will set their sights on a return to the provincial championships next season. With border crossing regulations and restrictions to the states set to loosen, CMU is poised to rejoin the NIAC conference next season in a condensed format with matchups against the other private colleges in the league that includes teams from Minnesota as well as North and South Dakota before a championship tournament to cap off the year.
Printed from: blazers.cmu.ca/mens-basketball-adds-neufeld