Men's Basketball Adds Team Manitoba Talent Guaring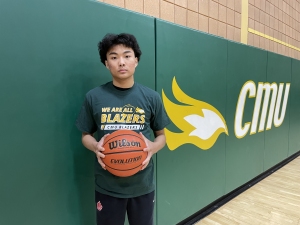 The CMU Men's Basketball program is very pleased to announce the commitment of Marco Guaring for the 2022-23 MCAC and NIAC seasons. The local St Paul's High product will bring top-end talent to the Blazers' backcourt along with plenty of big-game and championship experience.
Guaring is the latest of head coach Scott Martin's signings and will join a recruiting class brimming with potential to take the team to the next level and hopefully capture the team's first championship since 2017. He has many basketball endeavours on the go this summer, and will look to come into CMU at the top of his game.
The St Paul's Crusader point guard helped lead his high school squad to an MHSAA provincial championship title this year, defeating the Dakota Lancers, Sisler Spartans, and finally the John Taylor Pipers along the path to the championship. Guaring has been running the offence for the Crusaders' varsity team from the point since his grade ten year, and has also been team captain during his time there, playing under head coach Jeff Laping. He was named a graduating all-star in his final high school season and suited up for team Kahunaverse, who challenged a team coached by Blazers men's basketball's head coach Scott Martin in the high school all-star game.
Guaring has developed his skills under coach Jeff Laping at the club level as well, playing under his high school coach for the 204 Crew during the high school offseason. It was Martin's connection with Laping that got the recruitment wheels turning, leading to an invitation to Guaring to join some Blazers ID sessions, with the talented guard clearly catching the eye of CMU's head coach. Guaring marks the fourth signing of the offseason for Martin, and with star guard Seth McKenzie graduating this past April, and the transfer of outstanding guard Isaiah Cole to the University of Winnipeg Wesmen, the floor is open for his new recruits to make an immediate impact.
An athletic, multi-sport athlete, Guaring also featured on the St Paul's varsity volleyball team as a left side during his time as a Crusader, and will put that athleticism to full use when he suits up for Team Manitoba's U18 basketball squad at the 2022 Canada Summer Games in Niagara, Ontario this August. Ecstatic about his newest signing's opportunity to play against other top Canadian talent this summer, Blazers head coach Scott Martin praised Guaring's game, stating "he can play shooting guard or point guard being a high-intelligence player, as well as a high-end three point shooter."
Off the court, Guaring will put his intelligence to use studying business at CMU's Redekop School of Business, and is excited to join his new teammates in the fall, several of whom he knows from competitions in various leagues and teams around Manitoba. One of those such leagues is Winnipeg's Philippine Basketball Association (PBA), that Guaring participated in over the winter, ultimately winning the title in their division. That team is now gearing up to head to Toronto in July to compete at a Filipino Basketball League (FBL) tournament that will include teams from all across Canada.
Guaring will certainly be putting on the miles this summer playing the game he loves, and the Blazers hope to do the same as the basketball teams are poised to rejoin the NIAC conference next season in a condensed format with matchups against the other private colleges in the league that includes teams from Minnesota as well as North and South Dakota before a championship tournament in Minneapolis to cap off the year.
Printed from: blazers.cmu.ca/mens-basketball-adds-guaring