Blazers Women's Volleyball Sign Outside Swinger Sawatzky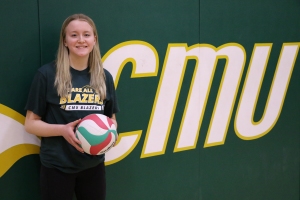 The CMU Women's Volleyball program is very pleased to announce the commitment of Julia Sawatzky for the 2022-23 MCAC season. The Dakota Collegiate product will add versatility and grit to the Blazers' lineup, not to mention great leadership potential and a wealth of experience in big-game scenarios.
Sawatzky's high school volleyball with the Dakota Lancers has seen her and her team gain plenty of success throughout her career there. She captained the Junior Varsity squad, which made an appearance in the Final four at at Provincials the AAAA level, and also took home championship banners from both the MBCI and Maples tournaments during the season. Personally, she also received tournament all-star recognition that season at the St Mary's tournament, and was named the Grade 10 Female Athlete of the Year at Dakota. After a season lost to COVID, Sawatzky picked up where she left off, captaining Dakota's varsity team to a third place finish in the Manitoba High School Athletics' SCAC zone and a top eight finish at provincials, and earned herself graduating all-star recognition along the way.
After starting her club career with Bandits Volleyball, and then Vision Elite Volleyball where she experienced loads of success at the Provincial and National Championships, she has most recently trained with Cobras Volleyball. Her development as an outside hitter with Vison Elite Volleyball is most notable, where the team made three consecutive appearances at the Provincial Championship Finals, including a Championship win in her U13 year. Her U14 year she was named the most improved player on the team, and then earned a role as assistant captain for her U15 year, when she was named team MVP en route to a 5th place consolation finish at the club National Championships.
Sawatzky already has ties with CMU, and follows her cousin in studying here, but is already familiar with a number of the women on the team and is looking forward to playing with them in the coming years. Blazers women's volleyball head coach Jayme Menzies is also looking forward to having Julia join the team, noting "Julia is extraordinarily versatile, athletic, technically sound, and gritty. She will single-handedly improve this team's depth and competitiveness."
Having just finished their first full year of Canadian Collegiate Athletics Association (CCAA) participation, the Blazers will look to improve on their MCAC playoff finals appearance this March and push for a Manitoba championship when the new season begins in October The winner of the MCAC championship goes on to compete at a national level at the CCAA championship tournament. The CCAA is the national body for collegiate athletics in Canada, offering 10 national championships in seven sports. The Manitoba Colleges Athletic Conference joins five other established CCAA conferences; PacWest (BC), ACAC (Alberta-Sask), OCAA (Ontario), RSEQ (Quebec) and ACAA (Atlantic).
Printed from: blazers.cmu.ca/womens-volleyball-sign-swinger-sawatzky