Blazers Women's Soccer Inks Goalkeeper to Kickoff 2022-23 Recruitment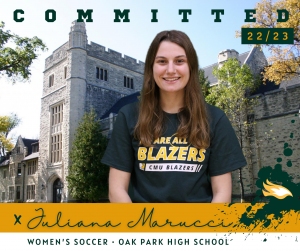 The CMU Women's Soccer program is very pleased to announce the commitment of Juliana Marucci for the 2022-23 MCAC season. The local Oak Park High product comes to CMU with a wealth of experience at the club and high school varsity levels in Manitoba.
Marucci is currently keeping herself busy with her Oak Park High School team, which competes in the Winnipeg High School Indoor League. The Raiders are sitting in second place in the top Premiership tier, with an undefeated 6-0-2 record heading into the playoff round which is set to begin in January. Marucci backstopped Oak Park to the fewest goals against during regular season play, with only three goals allowed through the first round of eight games.
At the club level, Marucci began her youth career with the St Charles Force throughout her U11 to U16 years, but most recently trained with the Boni Vital Soccer Club for her final seasons before collegiate eligibility. She has seen success throughout her club career, capturing city championships at the U13 and U14 levels, and also participated in several tournaments outside of the province, including the USA Cup, FC Regina Cup, and SUSC Tournament held in Saskatoon.
Her development as a player has been aided by numerous coaches, trainers, and mentors, who have been able to bring out the best in Marucci, whether in certain aspects of her on-field game and skills, in broadening her perspectives on strategies and the mental part of the game, and has enabled her to be the best player she can be. A particular experience that stands out to Marucci was her part on the Valour FC Elite Girls team during her grade 10 year. The opportunity to travel to the San Diego Surf Cup, as well as Shattock St Mary's for showcases, where she and her team got to compete with teams from across North America were some of the best experiences of her life, and contributed significantly to her development as a player.
Marucci's work ethic and skills on the pitch caught the eye of Blazers women's soccer co-head coaches Cara Isaak and Lianna Bestvater, who are happy to add more top talent to the roster for the 2022 outdoor season. "Juliana is really a standout player in her age group right now," stated co-head coach Cara Isaak. "She's an incredibly talented keeper who is also skilled with the ball at her feet and plays with confidence to direct the back line. She works very hard at every practice and pushes herself to excel. We have loved getting to know her and think her outgoing and positive personality will be a great fit for our program."
Now looking ahead to her college career, Marucci is very excited to join the CMU Blazers family, and can't wait to hit the pitch for the 2022-23 season. "Everyone on the team has been so kind and welcoming towards me, I already feel like I have been a part of the team for a while," acknowledged Marucci. "The coaches are so amazing, and I am very excited to play for them; and playing in the MCAC is going to be fun for me."
Now in their first full year of Canadian Collegiate Athletics Association (CCAA) participation, the Blazers will look to improve on their MCAC playoff appearance this past October and push for a Manitoba championship when the new season begins in September. The winner of the MCAC championship goes on to compete at a national level at the CCAA championship tournament. The CCAA is the national body for collegiate athletics in Canada, offering 10 national championships in seven sports. The Manitoba Colleges Athletic Conference joins five other established CCAA conferences; PacWest (BC), ACAC (Alberta-Sask), OCAA (Ontario), RSEQ (Quebec) and ACAA (Atlantic).
Printed from: blazers.cmu.ca/womens-soccer-inks-goalkeeper-2022-23