Charleswood Soccer Product Kicks Into The MCAC With CMU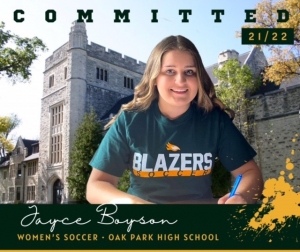 West-Winnipeg will be well represented in the CMU Blazers 2021 roster. Co-head coaches Lianna Bestvater and Cara Isaak announced the commitment of Oak Park High School and Charleswood Youth Soccer product, Jayce Boyson early this week. Boyson joins a growing list of players from the St. James, Charleswood, Lindenwoods and St. Charles areas who will link up next season in the MCAC.
"Jayce is a really powerful player," said Isaak. "She has excellent distribution and is skilled at drawing defenders by driving into space and then dishing off slick passes to her teammates. She is smart and moves well off the ball. We will also likely rely on her for her crossing and cornerkick-taking abilities."
Boyson laced up her youth boots for the Charleswood Strikers where she enjoyed the sort of success every player dreams of. Boyson's 2019 and 2020 seasons of indoor and outdoor soccer, produced four seasons of undefeated play and ended in four City Championships.
"I think that Jayce will be most effective as a striker or midfielder in our team," said Bestvater. "She is a strong, solid tackler and can protect the ball and play a pass when she wins possession. Her attitude is also great and she has established friendships with a few of the other new faces on our team. Having players who already have some chemistry together is a nice plus and for a young team, it will put us ahead."
One of those established relationships is Boyson's long-time Charleswood teammate Kasey Petruskavich, who signed for CMU early on, prior to the pandemic.
"One of the things that excited me most about playing at CMU is to be able to play with my best friend, Kasey, who I've been playing with for about 8 years," said Boyson. "I'm looking forward to playing with different coaching styles and I want to bring a positive attitude to the team. I am a team-first player who wants to see the team succeed as a whole."
The MCAC's stakes will certainly be heightened in 2021. Not only does the MCAC expect to be back on the pitch this fall competing for a provincial banner, but new season marks the first year that a Manitoba champion will advance to compete at a national-level in the 2021 CCAA Women's Soccer Nationals, this year held in Toronto. Manitoba joins five other established CCAA regional conferences - PacWest (BC) ACAC (Alberta), OCAA (Ontario), RSEQ (Quebec) and ACAA (Atlantic) - a total of 100+ colleges and universities all competing for a national title.
Printed from: blazers.cmu.ca/charleswood-product-kicks-into-mcac