Highly Touted Haelen Hanna Adds Talent and Tenacity to Blazers WVB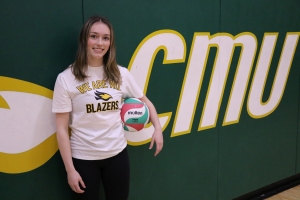 The CMU Women's Volleyball program is very pleased to announce the commitment of Haelen Hanna for the 2023-24 MCAC season. The Dakota Collegiate and Manitoba Provincial 18U Team product is projected to bring tenacity on defence and a strong leadership potential to the Blazers' squad this year.
Hanna joins the Blazers with strong references from all of her recent high school and club coaches, under whom she has developed into a premier-level libero in the province. Coming out of the strong volleyball program at Dakota Collegiate Hanna joins 2022-23 women's volleyball addition Julia Sawatzky as the most recent Lancers to make to switch from black and gold to the green and gold of CMU. In her final year of high school play Hanna was named an MHSAA Graduating All-Star, and a "AAAA" Divisional Finals Player of the game en route to their run at the Manitoba Provincial Championships. Her high school coach, Kelly Bowen, speaks of Hanna very highly stating "aside from her skill and athletic ability, Haelen is dedicated, focused, prepared, and passionate. Her work ethic is extraordinary on and off the court, and in this, she leads our team by example." Ryan Hudson, Athletic Director at Dakota Collegiate and himself a volleyball coach adds "of the many hundreds of athletes who I have coached and worked with, she is at the top of the list for her willingness to give elite effort and strive each day to be her best. She seeks out the challenge of being the one counted on in important moments, and she consistently excels in high-pressure situations."
One of many common threads listed throughout her many coaches' recommendations is the characteristic of being incredibly coachable, something that her 18U Team Manitoba coach Eku Malcolm notes as well, along with her leadership capabilities, and high-impact play. "Haelen has the ability that I've only seen from a select few athletes, the innate desire to find every possible way to stop a ball from dropping. She leaves everything that she has on the court and will run through walls to help the team." This past summer Hanna was one half of the Team Manitoba libero duo that helped the team go on to take home a gold medal for the province at the National Canada Cup. As with her high school squad, she was named co-captain of the team, leading Manitoba to the thrilling National Championship win. Now heading into her final club volleyball season, Hanna has moved onto Cobras Volleyball Club under head coach John Hykawy where she hopes to further refine her technical excellence, as she has the opportunity to work directly with recent Canadian National Team libero Cassie Bujan during training. She also joins a growing list of Blazers recruits to come out of the club, including the aforementioned right side Julia Sawatzy, as well as outside hitter Sofia Ertulova, and versatile attackers Sahra McKenzie and Halle Meisner.
Team Manitoba 18U coach, and former Blazers head coach Eku Malcolm played a part in guiding Hanna to CMU where she connected with current Blazers head coach Jayme Menzies, and immediately impressed during a skills session. "Haelen demonstrates an extraordinary work ethic on the court and in the classroom," stated CMU's head coach, now entering her sixth year leading the program. "She is coachable, capable, passionate, and a pleasure to be around. I am confident that her specific skillset will contribute to fostering a positive team culture and an elite training environment." Hanna will join Lauren Ens and Amy Neustater on the defensive side of the ball this upcoming season, making a trio of highly skilled, and incredibly positive teammates that will raise the entire team's level of play.
Hanna comes to the Blazers with a strong faith and is looking forward to the small class sizes and community aspect that CMU can provide, especially the opportunity to connect with new teammates while pursuing her post-secondary degree. Hanna hopes to one day become a clinical psychologist specializing in anxiety and sports performance, so her studies off the court will be focused in one of CMU's psychology and counselling studies programs. She looks forward to contributing to future team success, with an eye towards helping the Blazers reach their first CCAA National Championships in women's volleyball.
Looking ahead to next year, the Blazers will aim to improve on their MCAC playoff appearance this February and push for a Manitoba championship when the new season begins in October. The winner of the MCAC championship goes on to compete at a national level at the CCAA championship tournament, with this year's tournament held two weeks ago in Nanaimo, BC. The CCAA is the national body for collegiate athletics in Canada, offering 10 national championships in seven sports. Now finished its second full year of participation, the Manitoba Colleges Athletic Conference joins five other established CCAA conferences; PacWest (BC), ACAC (Alberta-Sask), OCAA (Ontario), RSEQ (Quebec) and ACAA (Atlantic).
Printed from: blazers.cmu.ca/blazers-wvb-recruit-hanna