Blazers Welcome Familiar Face to Helm the Program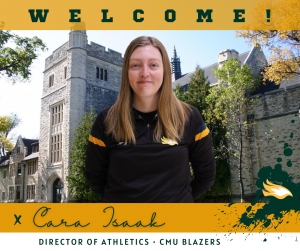 The CMU Blazers Athletics program is very pleased to announce Cara Isaak as the new Director of Athletics following the departure of Russell Willms, who held the position since 2008. Isaak is a familiar face to the program, as she has co-head coached the Blazers women's soccer team alongside Lianna Bestvater since 2015.
Isaak was born and raised in Winnipeg, where she enjoyed a variety of sports including basketball, tennis, and baseball, but excelled most at soccer, which she pursued at a club level with South End United and Phoenix, and later university level with the University of Manitoba Bisons. During her time at the University of Manitoba, Isaak completed both her undergraduate studies (Bachelor of Science, Genetics) and PhD (Physiology), all while still keeping her passion for sport.
CMU's new Director of Athletics has been recognizable as a Blazers head coach since 2015, but her involvement in coaching extends beyond CMU. She started her coaching career at the young age of 18, when she was involved with Portage Trail Soccer Club, and also has spent time assistant coaching at the USports level with the Bisons from 2010-2013, and also at the University of Winnipeg since 2017. Clearly, coaching has been a passion for Isaak for quite some time, and she notes getting to met Bev Priestman, current head coach of Canada's national women' soccer team, was a definite highlight while coaching with Manitoba's provincial team at Canadian nationals in BC.
Isaak's MCAC accolades should not be forgotten in her impressive resume of playing and coaching stints, which include winning an MCAC Futsal Championship in the spring of 2018, followed by an MCAC title in outdoor soccer the following fall. She also received personal recognition as MCAC soccer coach of the year in 2017, and for futsal coach of the year in 2018.
Coaching and playing aside, Isaak comes into the Director of Athletics position with experience in sport management after working as leagues coordinator at the University of Winnipeg, a post she has held since 2017. There she coordinated the Winnipeg Basketball League along with other court sports leagues, as well as helped plan student intramurals at the university. While already familiar with the Blazers programs she is looking forward to connecting with the rest of the coaching staff in a deeper capacity to explore their considerable talent and care, as well as with the athletes who have already impressed her with their passion and teamwork.
Isaak and the Blazers are looking to finish off the seasons with a strong showing in the second half, which is set to restart on January 28 if no further postponements are made. Both women's and men's basketball teams sit in first place in the MCAC standings, while the women's and men's volleyball squads find themselves in second place in the table, within reach of an MCAC Championship and the opportunity to attend CCAA Nationals in March. The women's and men's futsal season is yet to begin, with their tournament schedule currently under revision due to the delayed restart, with a likely championship date in late March.
Printed from: blazers.cmu.ca/blazers-welcome-familiar-face-to-helm-program