Blazers Athletics Enters Teamwear Provider Partnership with Zueike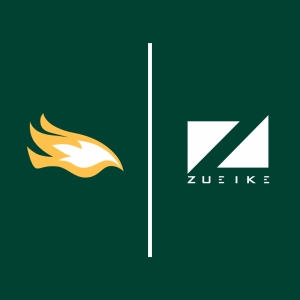 Blazers Athletics is very pleased to announce our partnership with Winnipeg-based team outfitter, designer, and clothing provider ZUEIKE /zu-we-kay/ beginning with the 2021-22 season. Already renowned for their premium athleisure apparel for all lifestyles, Zueike, which means "relax", is a company co-owned by two former university athletes who share a deep understanding and appreciation for varsity teamwear and university sports.
"As a varsity athletics program, we are very happy to be partnering with Zueike and have the opportunity to share their brand and product with the rest of Canada," said CMU Director of Athletics, Russell Willms. "As we have been ironing out the details of our partnership with Zueike, it has been very evident that we share many of the same convictions, values, and goals—things that extend well beyond sport and business—and we are excited to have our athletes, coaches, and the community share in some of the initiatives that the Blazers and Zueike will be partnering on during the coming months and years."
Co-owners Bryan Salvador, former university volleyball player with the Winnipeg Wesmen and Ogo Okwamabua, former university basketball player with the Manitoba Bisons, launched the Zueike brand just prior to the pandemic's arrival in Canada. Despite the challenges that many small businesses endured, the brand is thriving. The Zueike Lounge, located in south Winnipeg at #6-45 Trottier Bay, just off of Chevrier Boulevard, carries premium activewear and athleisure apparel.
"We are happy to be a part of this incredible partnership," said Bryan Salvador, co-owner of Zueike. "Sports have given us a lot of opportunities growing up and we're excited to join an organization that is building the leaders of tomorrow."
This Saturday, Zueike will be hosting The Block Party, a celebration that will highlight Winnipeg's vibrant Black community, black-owned small businesses, and cultural organizations. This second annual event will feature shopping, entertainment, food trucks, and prizes. It will take place outside the Zueike Lounge from noon to 6:00 PM and is open to the public.
Printed from: blazers.cmu.ca/blazers-teamwear-partnership-zueike