From the Beaches of BC to the Manitoba Hardwood: Murphy Makes the Jump to Blazers MVB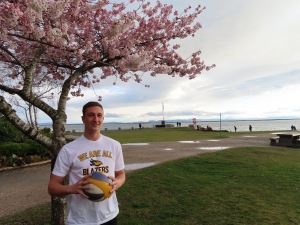 The CMU Men's Volleyball program is very pleased to announce the commitment of Alex Murphy for the 2023-24 MCAC season. The R.A. McMath and Langara College transfer from Richmond, BC is excited to take his game from the beach back to the hardcourt next season.
A graduate from Richmond's R.A. McMath Secondary School in 2018, Murphy has been honing his all-around game on the beach courts of BC's lower mainland in his time since graduating. Murphy was a mulit-sport athlete for his high school Wildcats, featuring on the volleyball, basketball, and rugby teams, which led to him being named the school's Top Male Athlete in his senior year. A setter on his high school squad, Murphy was a late bloomer seeing his growth spurt come not until his varsity years when he became one of the taller boys on the team. At that time he was already active during the summers in outdoor grass leagues, and carried that passion for the outdoor game into his time since graduating high school.
Since graduating from secondary school, Murphy has attended Vancouver's Langara College, which is a fellow CCAA school competing in the PacWest Conference; however, the Falcons do not run a volleyball program, instead focusing on basketball, soccer, and golf programming. Not having the opportunity to play indoor, Murphy started focusing on the outdoor beach game to continue to grow his skills while staying active throughout the year. Enter the COVID-19 pandemic, and while indoor court sports were shut down for the season, Murphy was still playing beach volleyball five to six times a week at Vancouver's Kitsilano beach courts. Playing the beach game has forced the former setter to diversify his skillset, where all players need to be proficient passers, hitters, and diggers, and the improvement has been noticeable in his all-around game. Over the past couple of beach seasons he has competed at the Kits Classic, Jim Clive Cup, Vancouver Open, Penticton Open, and Parksville Tournament on Vancouver Island, and has noted that the top contenders at all the tournaments were all current or former college indoor players, which spiked his interest in getting back onto the hardcourt.
Murphy is excited to continue his development and make the jump to the college game, especially after having seen such growth and maturity in his game over the past few years. Blazers Men's Volleyball head coach Don Dulder is happy to have him on board, seeing his versatility and athleticism as a definite upside coming into the season. "Alex comes to us from BC, and is an extremely versatile player who at 6'2" can play Left side, middle, right side, or setter," notes Dulder, who is entering his tenth season at the helm of the CMU squad. "He has been honing his skills on the beach circuit and is a top notch character player who will be a welcome addition to our team. Alex is definitely a team-first guy, and I believe if he continues to work hard developing his game he will be a very good college player."
After visiting Winnipeg this past October, Murphy was set on trading in the mountains and Pacific beaches of British Columbia for the lakes and parkland of Southern Manitoba and now finds himself as the most recent signing of the men's volleyball team. While not as majestic as the rainforests along the BC coast, Murphy will be living and studying on CMU's campus located in a stretch of urban parkland that runs from the Assiniboine river South through Fort Whyte, nestled in the Assiniboine Forest, North America's largest urban forest. He will continue his post-secondary studies at CMU's Redekop School of Business, after completing two years of business at Langara.
Following a sixth-consecutive MCAC Finals appearance this February, the Blazers will once again look to make an appearance on the national stage next season. The winner of the MCAC championship goes on to compete at a national level at the CCAA championship tournament, with next year's tournament back in Murphy's home province at Camosun College in Victoria, BC. The CCAA is the national body for collegiate athletics in Canada, offering 10 national championships in seven sports. Now finished its second full year of participation, the Manitoba Colleges Athletic Conference joins five other established CCAA conferences; PacWest (BC), ACAC (Alberta-Sask), OCAA (Ontario), RSEQ (Quebec) and ACAA (Atlantic).
Printed from: blazers.cmu.ca/blazers-mvb-recruit-murphy