Anna Pyne: November's Zueike Female Athlete of the Month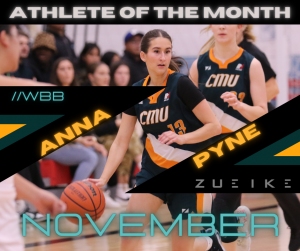 Congratulations to Anna Pyne of Women's Basketball on being selected the CMU Zueike Female Athlete of the Month for November. The veteran ponit guard provided some much-needed consistency and scoring for the Blazers as they started their 2022-23 campaign.
The women's basketball roster saw plenty of changes both with new recruits during the summer, as well as some key injuries during training leading up to the first official match, but one of the pillars of the team thus far this season has been Pyne, who is now entering her third season of eligibility with CMU. Pyne brings with her a championship-winning pedigree, having been with the team for MCAC championship wins in 2020 and 2022, along with a NIAC championship win in the spring of 2020.
Pyne has been a key contributor throughout her time as a Blazer, but head coach Joe DiCurzio has leaned on his veteran guard more than ever this season thus far, and she has produced in return. Through the first three MCAC games of the season, Pyne co-leads the conference in points with teammate Briana Ehrmantraut, and also is putting in the work on defence, leading the conference in steals, and is sitting in top five in a number of other statistical categories including three-pointers, offensive rebounds, and minutes played.
The Blazers have picked up where they ended last season as conference champions starting the season with a 3-0 record in Manitoba in the month of November. Blazers head coach Joe DiCurzio realizes the impact player Pyne has been through the season thus far and weighed in on his guard's play: "Anna has had an extremely productive month of November. Due to our incredible amount of injuries and other happenings she has had to play a much larger role with many more responsibilities on our team and she has responded admirably. She is ranked in the top three for scoring in the league, top three in assists and top five in shooting percentage. Anna has the incredible ability to see the whole floor and is able to make terrific decisions. She has worked extremely hard on her game and it really shows on the court. Anna is a terrific leader on and off the court, is constantly working on improving her game, and is always supportive to all of her teammates."
The Blazers are on break now until January, when they start their second half with a road exhibition at Dakota College Bottineau on January 6th, then host an exhibition with fellow NIAC member Turtle Mountain on January 8th before beginning MCAC league play again the following weekend with a back-to-back with the St Boniface Rouges.
Printed from: blazers.cmu.ca/anna-pyne-athlete-of-november